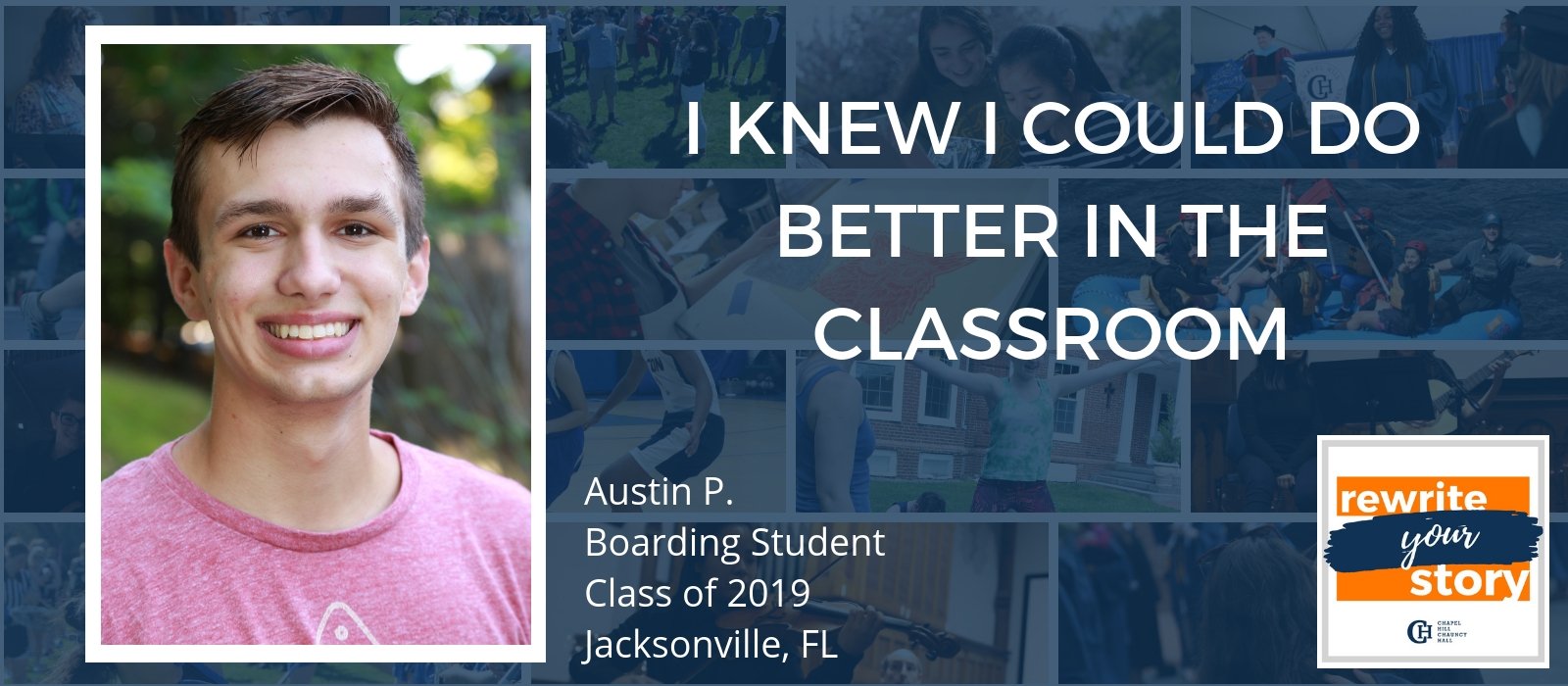 As a high school student in Jacksonville, Florida, Austin's goal became to "get through" high school, and his grades began to fall as a result. He knew his true potential, so he decided he needed to change his environment. Austin enrolled as a boarding student at Chapel Hill-Chauncy Hall with two goals: to prepare for college, and to play basketball.
Watch Austin's Story:
In Florida, Austin was "just trying to get through" high school. "I wasn't doing well socially or academically," says Austin. "I had a 2.0 GPA, and just wasn't enjoying it there." After enrolling at CH-CH as a boarding student his junior year, Austin's teachers became game-changers. The access he had to teachers in the classroom, in the dorm, and on the field helped Austin take ownership of his academics, raising his GPA to 3.2. "I've been thriving academically, and I've got a good social group," says Austin. "And next year I'll be going to the University of Denver, it's just a great feeling."
Transcribed From Austin's Video:
My name is Austin and I'm from Jacksonville, Florida. Before I came here I had around a 2.0 GPA. I wasn't really doing well academically, socially. I was looking at a couple of different schools, but what struck me about CH-CH was kind of the community and how it didn't feel like some preppy public school. There weren't uniforms, it was more focused on the learning and the community and just being a kind-driven community. What really changed was the teachers. Mr. McPhail for example, I have him for two classes this year and I'm probably closer with him than any other teacher on campus. He lives in the dorm, he's also a lacrosse coach, and I see him almost everyday. The fact that he lives in the dorm, I can also talk with him whenever I need help on work, it's awesome.

The two things that I really wanted was to play basketball and to get my grades up. I got to play basketball, we won the league championship in division two for the MBIL, it was great! We all ran together. It was awesome, it was one of the best moments ever for me.
Going from just barely passing by to going to the University of Denver and to just having a great GPA and having a sense of accomplishment is just, it's a great feeling.