Does the thought of the SAT and ACT make you nervous? Do college tours and fairs make your palms sweat? Overwhelmed and haven't even started junior year yet? Sit down, have some water, relax and have no fear. Chapel Hill-Chauncy Hall's Director of College Counseling, Brooke Fincke, has counseled over 500 students through the college admission process, and has put together a comprehensive list of the entire college process, from the first day of 11th grade to graduation, in easy-to-follow steps: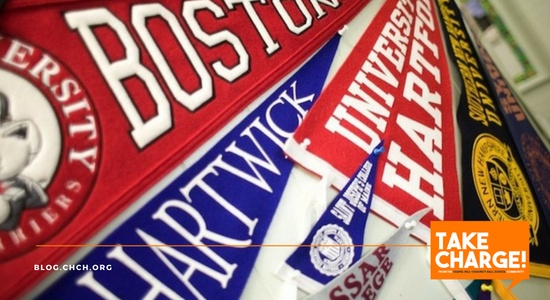 10th Grade
Pre-Step 1 | Comparison Test | May
In the spring of your sophomore year, we do a SAT/ACT comparison test. This allows you to try out the SAT and ACT to help decide which test is a better fit. By junior year, you know which standardized test is the best match for your learning style, how to pace yourself with a testing strategy, and ultimately design a plan that makes the most sense for your post-secondary goals.
11th Grade
Standardized Testing Prep/Exams | Fall
In the fall and throughout junior year, we engage in standardized testing prep and exams based on the plan you developed last spring. Yes, those dreaded tests which take hours upon hours and require at least 8 #2 pencils to complete are a big part of junior year, but think of it this way, the sooner you take the exams, the sooner it's over! Plus, we have plenty of standardized testing resources, such as on-campus tutoring classes.
Essay Drafting in English Class | December
It's time to start writing the first drafts of your essay. Starting in December, CH-CH students work on their college essay drafts in English class, in the form of the college essay workshop. That's right, we engage in our college essay preparation and writing with the 11th grade English teachers. The essay is something you have to do anyways, and having it fully integrated into your classwork does not make it feel like something extra.
Getting Familiar with Naviance | January
To kick off the college search, we host Junior College Night in January. Junior College Night is our annual workshop that allows parents and students to access college counseling handbooks and Naviance. What is Naviance? The software used to manage the entire college process (and your new best friend!)
Individual Post-Secondary Planning Meetings

|

January
After familiarizing yourself with college resources and software, it's time to sit down with your college counselor! This is when we'll construct a post-secondary plan and discuss what you're looking for in a college. From program selection, ideal attributes and resources, to location, size, and community, you'll cover the entire range of options to find the best fit for you!
Visit Colleges! | January-Through Senior Year
Now that we've discussed and constructed a concrete post-secondary plan, it's time to visit schools and attend college fairs! Take a look at how to get the most out of your college tour.
Teacher Recommendations | March
Spring of junior year is a great time to request teacher recommendations. We do this formally, giving teachers letters that ask for their support, and also provide them with important details they can use in writing letters. The purpose of teacher recommendations is to provide insight about who the student is in a classroom setting. It is important to choose teachers who can talk about how you participate in class, deal with challenges, and what your strengths are as a student.
Preliminary College List | May
Now you've had the opportunity to visit schools and develop an understanding of the college search, it's time to create your preliminary college list on Naviance. Don't stress, you can easily make changes to this list over the summer!
Summer Vacation | June-August
Enjoy your summer! That being said, it's very important to engage in authentic experiences during your last summer of high school. Don't spend your time racking your brain about what can be the most impressive thing to put on a college resume, colleges see right through that.
Instead, you should be engaging in something you care and have passion for. Whether that's starting a blog and cooking different meals every week and reporting on the feedback from your (hopefully non-food poisoned) family, being a camp counselor, working at a grocery store, or traveling- Whatever it is you care about and want to spend your time doing, by all means, do it!
It's extremely important to engage authentically and supplement your interests, curiosities, and desires.
12th Grade
CH-CH College Bootcamp | August
We offer a week-long session of one-on-one time to work on applications, finalize essays, and perfect resumes. Bootcamp is a great way to take some pressure off the fall of senior year. C'mon, you're not doing anything in August anyways...
Finalize, Finalize, Finalize! | Fall
Finalize your standardized testing in the fall, if necessary.
Finalize your list of colleges.
Early Decision/Early Action Deadlines | October
Feeling ready to start submitting applications? Go for it!
Remember, Early Decision is binding- you must attend the college if accepted. Early Action is nonbinding- you receive an early response but don't have to commit until the National Reply Date of May 1st.
Apply to College! | January
January is when most Regular Decision deadlines fall. Make sure to pay attention to deadlines and requirements so you are not missing any required materials for applications!
Revisits | Spring
Once you receive your acceptances, congratulate yourself! Then, plan to revisit those schools if you need help narrowing your choices. A second visit is a great way to see the school from a new perspective- as an accepted student!
Submit Deposit | May
By May 1st, submit your deposit to the college you've chosen!
About the Author:
Director of College Counseling, Brooke Fincke has gained the reputation as a bit of a rock star on the CH-CH campus. Not only has she counseled over 500 students through the college admission process throughout her career, helping them find the best fit school, but she has managed to make the process enjoyable, and remove much of the stress from this critical moment in her students' lives.