Since joining the CH-CH community in the fall of 2012, Julia Woodward has made a big impact on campus. From teaching English and Skills and Academic Support to coaching soccer and ultimate frisbee, even having the yearbook dedicated in her honor. Outside of the CH-CH campus, Julia has volunteered her time to educate inmates in maximum-security prisons. Experiences both inside and out of the classroom are a constant reminder to Julia of how rewarding and life-changing the role of a teaching can be.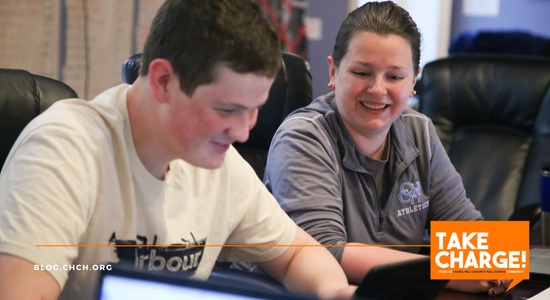 Chapel Hill-Chauncy Hall was recommended to Julia by a colleague at her former employer. After learning about the tight-knit community and small class size, it felt like the perfect fit.
An important aspect of Julia's teaching philosophy has always been connecting and establishing bonds with her students. "Because we work with our students in small groups, we have the opportunity to form a mentorship program that works," she said. By the time graduation comes along, students have the ability to be successful independent learners and advocate for themselves.
VIDEO: Julia receiving the yearbook dedication from the Class of 2018
Julia teaches her students how to advocate for themselves, while she advocates for education opportunities for those who don't necessarily have a voice.
Something you might not know about Julia Woodward is the commitment she has to helping those who she feels have been forgotten by society: inmates in the Massachusetts correctional system.
CH-CH's 12-grade dean received her first taste of teaching at a maximum-security prison in New York when she was a Cornell University student. It was through her experience in Cornell's Prison Education Program that Woodward decided to pursue a career in education.
"You forget that there are guards outside and downstairs" she said. "It just felt really powerful to me. It's a community that has been largely left behind, forgotten, and they are looking to take advantage of these kinds of programs."
On Tuesday nights, Woodward visits the Northeastern Correctional Center in Concord - a minimum-security facility - where she has taught "Nonviolent Communication," a class offered nationally at correctional facilities, for over two and a half years. She also serves as Board Clerk for the Concord Prison Outreach Board of Directors, a position she's held for just over a year.
Working in prisons has given Julia Woodward a different outlook on teaching.
"There are sometimes difficult moments in class, but my experiences within the correctional system have helped me recognize the incredible benefit of the education students are getting at CH-CH."