The Certificate of Distinction Program at CH-CH is designed to give students the opportunity to dive deep into areas of interest and passion within Diversity, Equity and Inclusion (DEI), the Humanities, Math and Science, and Visual Arts. Students are mentored by a CH-CH faculty member throughout this journey. By completing a balance of coursework and outside enrichment opportunities, students further develop their creativity, critical thought, analysis, collaboration, and communication skills.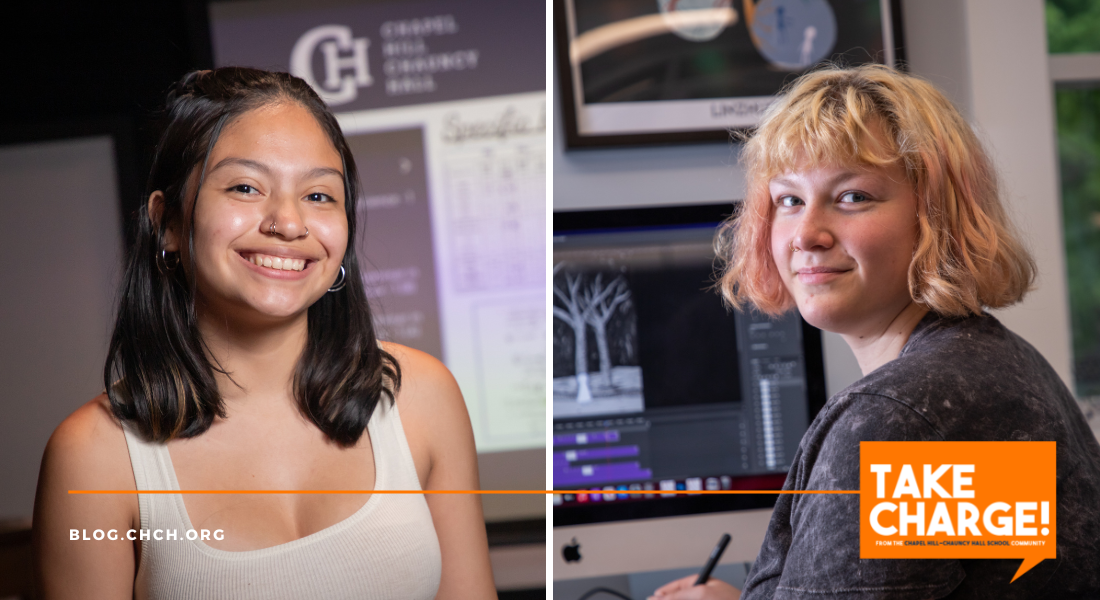 At the 2022 Graduation Ceremony, six graduating students received Certificates of Distinction, including Ace Nunes in Visual Arts and Stephanie Fernandez in Mathematics and Science. Both students focused their work on areas that they are passionate about and used it as an opportunity to develop their own skills and experience while advancing the community as a whole.
Stephanie Fernandez '22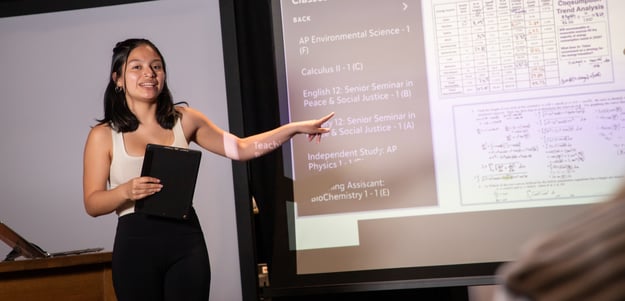 For Stephanie Fernandez, the journey towards a Certificate of Distinction in Mathematics and Science began before ever stepping foot on the CH-CH campus. "I had a project in sixth grade, to create a slideshow of what I wanted to be when I grew up," said Fernandez. "I just knew that I wanted to be a doctor."
Upon arrival at CH-CH, she started putting her future plans into action. Stephanie was driven to challenge herself beyond the classroom and met with her teachers to discuss further experience in math and science. It was while seeking out a summer math program that she began meeting with Mike Daniels, math teacher and former Chair of the Math Department. "He guided me through every step, and was encouraging me the entire time," said Fernandez.
Mike Daniels quickly became a mentor and motivator for Stephanie, continuing to work with her on math projects during office hours, even in years when she was not in his class.
"Stephanie is a trailblazer," said Daniels. "Someone that is consistently demonstrating depth of thought, strong analytical skills, curiosity, and creative expression of understanding."
With Stephanie's drive in and out of the classroom, Mr. Daniels, encouraging Stephanie to pursue a Certificate of Distinction. Stephanie was immediately drawn to the idea of diving deep into a project that accelerated her journey to work in medicine, and wanted to make sure it would also help others. "I decided to design a medical-based afternoon activity that I would take part in, and students after me would be able to access as well," said Fernendez.
Stephanie designed the Athletic Trainer's Assistant Program, which allows students to work alongside CH-CH's Athletic Trainer, Shauna Kelly. Shauna and Stephanie worked together to develop this program that allows students to get hands-on experience alongside the trainer, while also taking part in lessons in health and medicine.
While the experience was valuable to Stephanie to design and take part in, she also created a handbook, allowing this program to continue to run long after her time here at CH-CH. "There wasn't a program like this in my 9th-grade year," said Fernandez. "Now, it's open to everyone. I look forward to it continuing, students learning something new, and making it even better than when I left it."
Stephanie is quick to thank the teachers and staff that helped her. From Mike Daniels who gave her the motivation and self-confidence to challenge herself and pursue her dreams, to Shauna Kelly who made it possible by taking the time to allow Stephanie to build a new program from the ground up.
"They allowed me to excel because they knew I was interested," said Fernandez. "I truly believe that they allowed me to succeed and I wouldn't have gone as far in STEM in any other school." This fall, Stephanie began her first year at Columbia University, and she is excited to continue challenging herself on the path to working in medicine. As for advice for new students at CH-CH, she wants to make sure they take risks and trust that the community will support them to make it a reality: "It doesn't have to be a lot in the beginning, but I encourage everyone to just try," said Fernandez. "Because along the way, you'll find a passion and you'll find yourself."
Ace Nunes '22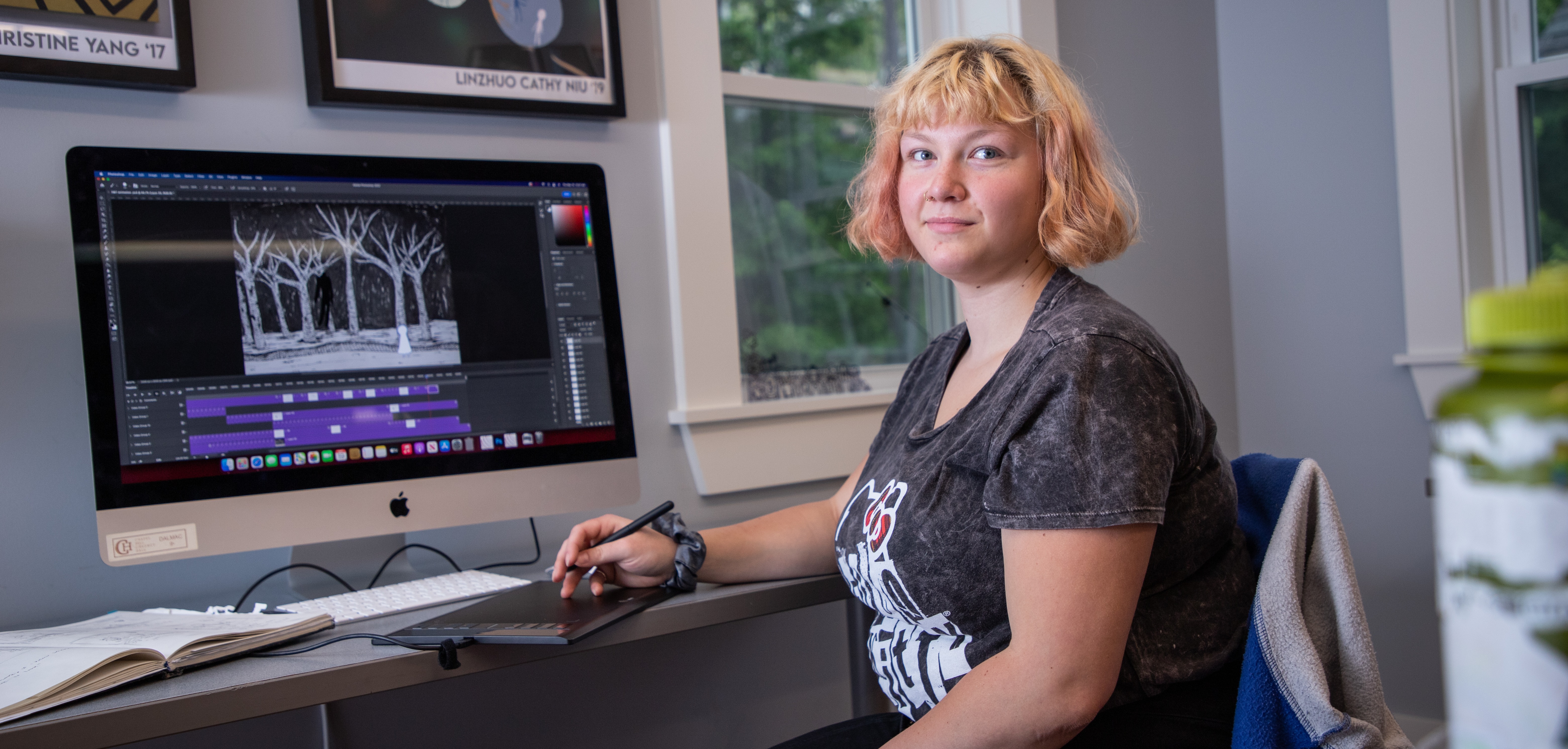 Creativity is something that has been in Ace Nunes' family for generations, painting is a big part of both their mother's and grandmother's lives. Early on, Ace developed a strong appreciation for animated shows, such as Steven Universe, an animated show that is critically acclaimed for its prominence of LGBTQ+ themes and science fantasy worldbuilding, because they can go beyond telling a story and make kids feel more connected. "One of my favorite things about a show like Steven Universe is the representation in it," said Nunes.
Although aside from a love of cartoons, and teaching themselves a few different artistic mediums, creating art was never a big part of Ace's life early on.
It was during Ace's junior year that their connection to art changed, "I took the Advanced 3D Design class, and was like, 'Woah'!" said Nunes. "There were so many things I've never done before and it was incredible to get to explore and test all these materials in a giant art studio."
This opened the doors to creating art in new ways, including digitally with the app Procreate and convinced Ace to pursue the AP Studio Art class in their senior year.
Around the same time, Ace connected with Jamie Palmer Keating, the Chair of the Visual and Performing Arts department at CH-CH, and also a working artist. "I talked to her about the nuances of 2D and 3D animation for about two hours," said Nunes. "Then I thought wait, maybe I should pursue this."
Jamie became a teacher and mentor for Ace, keeping them motivated as they created a series of work for their AP portfolio. "Ace is fearless in their art-making," said Keating. "They often critique their own work in such an insightful way that it shifted and changed the shape of their work organically, and in such a dramatic way."
Committing to pursue a Certificate of Distinction was a big choice for Ace. This meant that in addition to their AP portfolio, they needed to present their work and take questions from a panel of CH-CH faculty and staff. It was a challenge to create this amount of work in the timeline of senior year, and it changed how Ace approached creating art, "I had to finish the final four full pieces, and I realized that I don't need to be carefully analyzing everything about my work," said Nunes. "I can just create, and it forced me to learn different ways to express myself visually."
This fall, Ace began their first year at Lesley University's College of Art and Design, where they are pursuing a BFA in Animation and Motion Media. Ace is looking forward to creating the kind of art that has inspired them over the years. "I want to create art that makes people feel," said Nunes. "My goal for going into animation is to create shows and stories that some little kid watches and is like, 'wow, I've never seen myself portrayed on screen before!'."
Ace's advice for CH-CH students is to not let self-doubt get in the way of their art. "Even if you don't like the way it looks initially, others will find it amazing," said Nunes. "Then someday you'll be creating these giant beautiful art pieces and you'll look back and think, 'look how far I've come'.
This article was originally published in the CH-CH Chronicle.