Recently, the Chapel Hill-Chauncy Hall Admissions team went live on YouTube to answer parent questions about the independent school admissions process. CH-CH Director of Enrollment Management, Lisa Pelrine, was joined by current students Sonya G. '21 and Elena S. '20 for the webinar. You can watch a rebroadcast of the Q&A here, and in this article we'll outline some of the answers to the great questions asked by the families watching!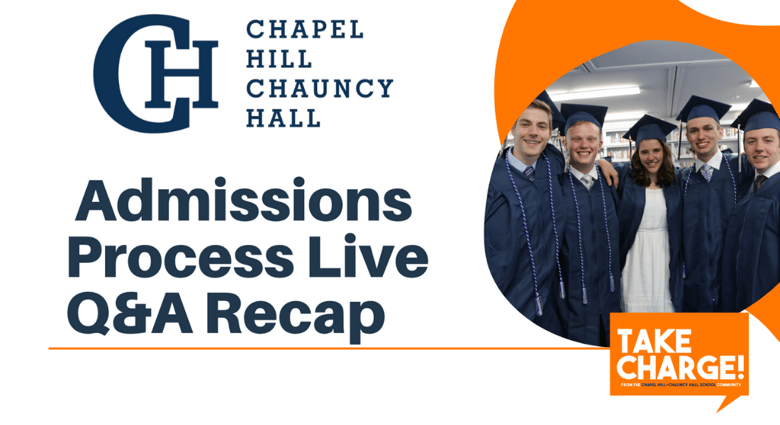 Q: Which Applications Does CH-CH Accept?
A: At CH-CH, we strive to make the admissions process as easy as possible. In addition to having our own online application, we also accept the Common Application (SAO).
View the complete answer HERE.
Q: Does My Student Have To Take The SSAT?
A: In short, your student does not have to take the Secondary School Admissions Test (SSAT) to be considered for enrollment at Chapel Hill-Chauncy Hall. Further details can be found HERE.
Q: Does CH-CH Teach Students Structure and Organizational Skills If They Choose Not To Sign Up For Extra Support?
A: If students do not sign up to take our Skills and Academic Support (SAS) program, they will still be taught structure and organizational skills through various components of their daily schedule. Every day, our teachers strive to connect the material and skills being taught to the learners' strengths which extends and further develops students overall capacities and performance. Our academic schedule, which consists of classes meeting three times per week with each meeting lasting 75 minutes, provides as key structure. This frequency and class length allows teachers to conduct multiple activities within each block, giving multiple ways to access the material dependent on student learning style.
Another element of the daily schedule for students is office hours. Office hours take place four times a week for 40 minutes per day. Our teachers are available in their classrooms or office during this period and students are encouraged (and at times, required) to see their instructors with any questions or difficulties they might be encountering. Long term, office hours allow students to develop both time management and self-advocacy skills essential in higher education.
Click HERE to find out what our Director of Enrollment Management had to say about incorporating structure and organizational skills into the daily student schedule.
Q: Do Classes Meet Students Where They Are, Or Do They Continue To Challenge Them?
A: At the beginning of each school year, our teachers will access where all students are in terms of familiarity with topics pertaining to the upcoming curriculum, as students come to CH-CH from a wide-range of public and independent schools. The underlying goals of the curriculum are to provide students with the opportunity to develop self-confidence as learners and to achieve a greater degree of independence and maturity in thinking, making decisions, and taking actions.
See what current students had to say about the challenging, yet supportive, academic curriculum at CH-CH.

Q: Does Admissions Meet With The Student And Parents For The Interview?
A: Yes, our admissions team meets with the student and at least one parent during the on-campus interview. After going on a student-led campus tour, one member of our admissions team will conduct family interviews, meeting with the student first and then the parents. Student interviews are formatted in the style of a conversation, and parent interviews provide as a recap and question period. Learn more about the the campus visit and interview process at CH-CH, from start to finish.
Q: What Does The Student Leadership Group (Cavalry) Do On Campus?
A: The Student Leadership Group (Cavalry) is a group of student leaders who provide as ambassadors on campus and assist in the admissions process. Cavalry members give perspective families campus tours, host prospective students for shadow days, and attend open houses. Ultimately, the Cavalry program is a platform for students to showcase how CH-CH has provided them with opportunities to succeed academically, socially, and grow into a leader.
Find out why two current CH-CH students joined the Cavalry.
Q: What Type Of Students Excel At CH-CH?
A: With our small classes and dynamic schedule, CH-CH is an engaging learning environment. "Students that are the most successful are the ones that engage with the adults on campus," says Director of Enrollment Management, Lisa Pelrine.
"I love it here because the faculty are here to help us succeed and take the next step in life," Sonya G. '21 added. "I've found a lot of teachers I can connect with, academically and personally, and that's my favorite part."
Click here for the full answer.
Q: What Qualities Does CH-CH Look For In The Application?
A: "My approach to the application is really looking at the full student," says Director of Enrollment Management, Lisa Pelrine. "I prefer to read an application after I receive all required teacher recommendations and parent narratives, so I can fully understand who the student is in and outside of the classroom."
Find out what our Director of Enrollment Management said makes for an excellent application. about
Q: Is There 5-Day or 7-Day Boarding Available?
A: Boarding at CH-CH is a 7-day program. Our boarding students have the flexibility to go home during the weekend or stay part of the weekend. With that, we always offer numerous activities and trips each weekend that are open to day students as well.
Learn more about the flexibility of boarding at CH-CH,
Q: Are There Any Sections Of The Application That CH-CH Pays Particular Attention To?
A: "Personally, the most important piece of the application is the interview," says Director of Enrollment Management, Lisa Pelrine. "It brings the entire process to life, getting to know each students' personality interests, and academic strengths... at the end of the day, it is all about best fit." For Lisa's complete statement on a standout application, click HERE.
Watch the Full Replay of the Admissions Live Q&A:
Chapel Hill-Chauncy Hall is a coeducational day and boarding school located in Waltham, MA. Learn more about the admissions process.