On Saturday, June 1st, Chapel Hill-Chauncy Hall School recognized the fifty-four graduates of the Class of 2019 in its 191st commencement ceremony.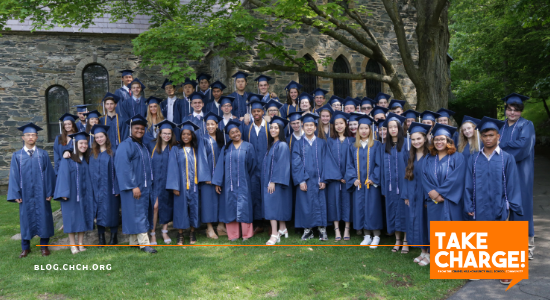 Student speakers included Valedictorian Noah Dunne and Salutatorian Noa Gittelman-Egan, each delivering an inspirational speech to their classmates. The commencement address was delivered by Lynn Margherio, the Founder and CEO of Cradles to Crayons, a national non-profit that helps provide more than 280,000 children, annually, with everyday essentials.
In her commencement address, Margherio shared her story, as well as her first-hand experience working with the graduates in the classroom during a recent visit to the CH-CH.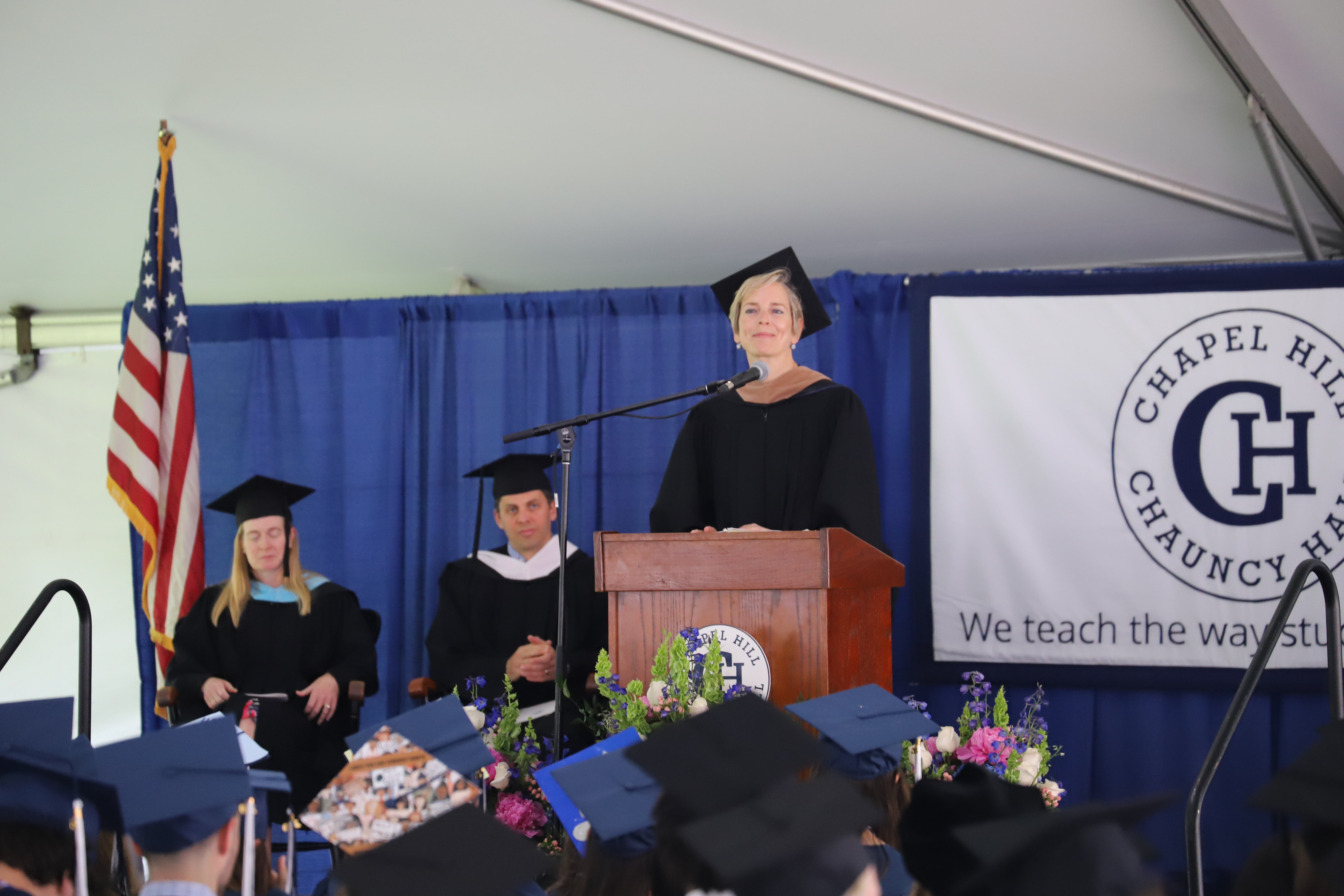 Lynn Margherio delivering her commencement address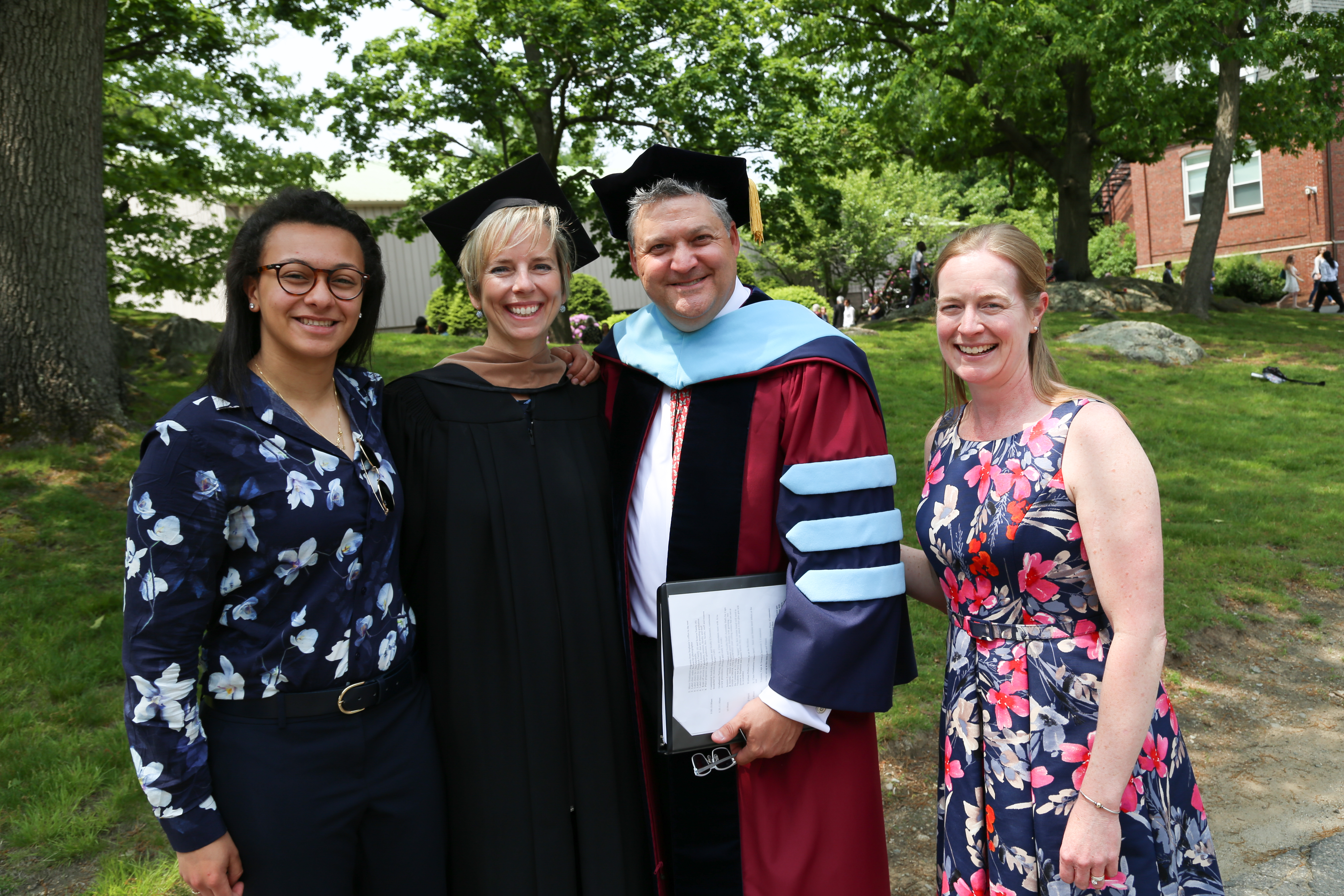 Caroline Burke '20, Lynn Margherio, Lance Conrad, Ed.D., and Kelly Walsh
"You all know what it's like to embrace your own differences, and respect the perspective of others. You are aware of your stories, and the stories of those around you," said Margherio. "You believe in your sense of self and elevate the individuality of one another. You allow yourself to be vulnerable, trusting that it will build your confidence. And when you see barriers, you break through them!"
In his speech, Valedictorian Noah Dunne reminded the graduates to remain focused when obstacles arise in their life.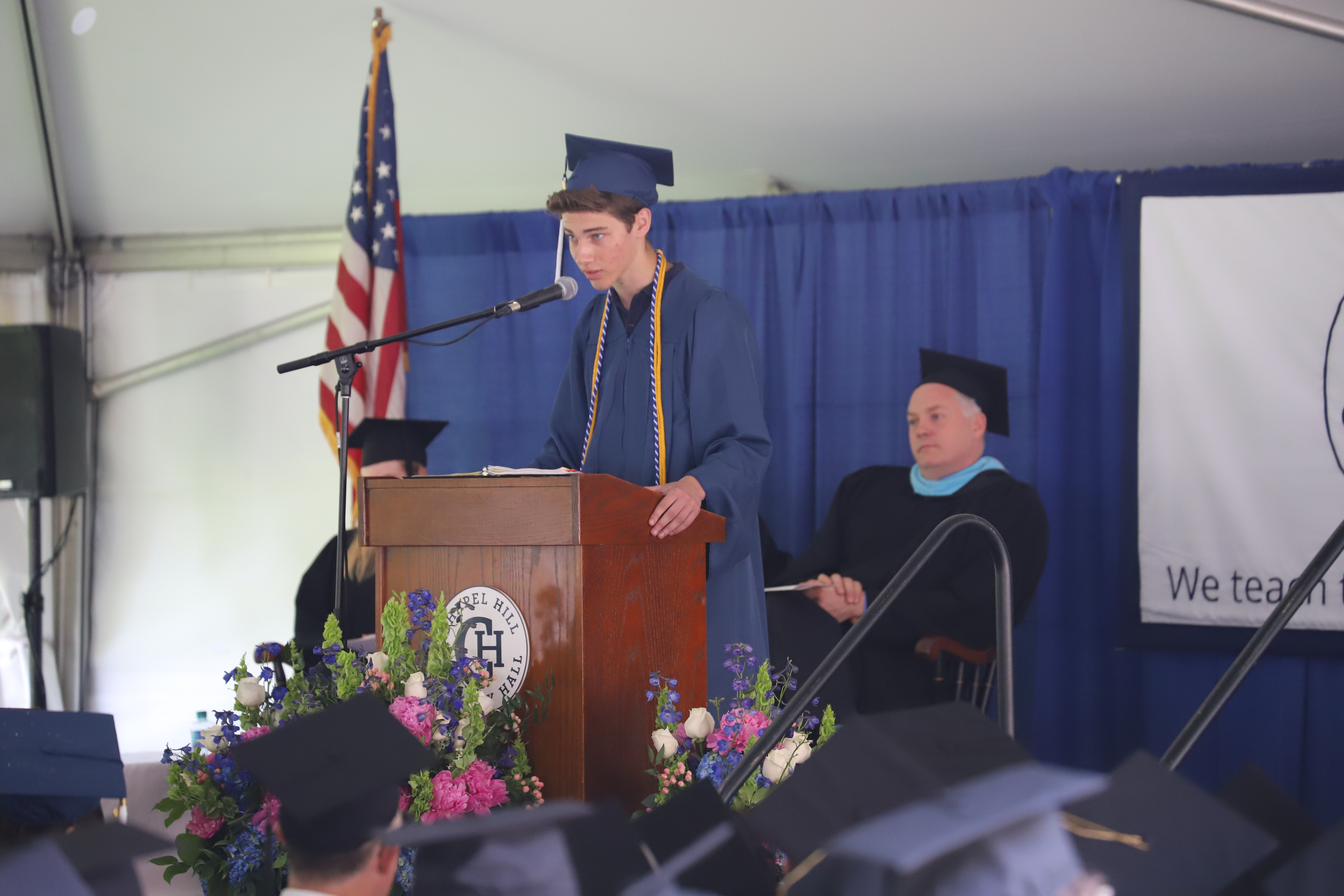 Noah Dunne delivering his valedictory address
"Take a second, take a step back, and look at this obstacle not as one giant problem, but a thousand small ones," said Dunne. "Then start to solve them, one by one, until you reach what you're aiming for."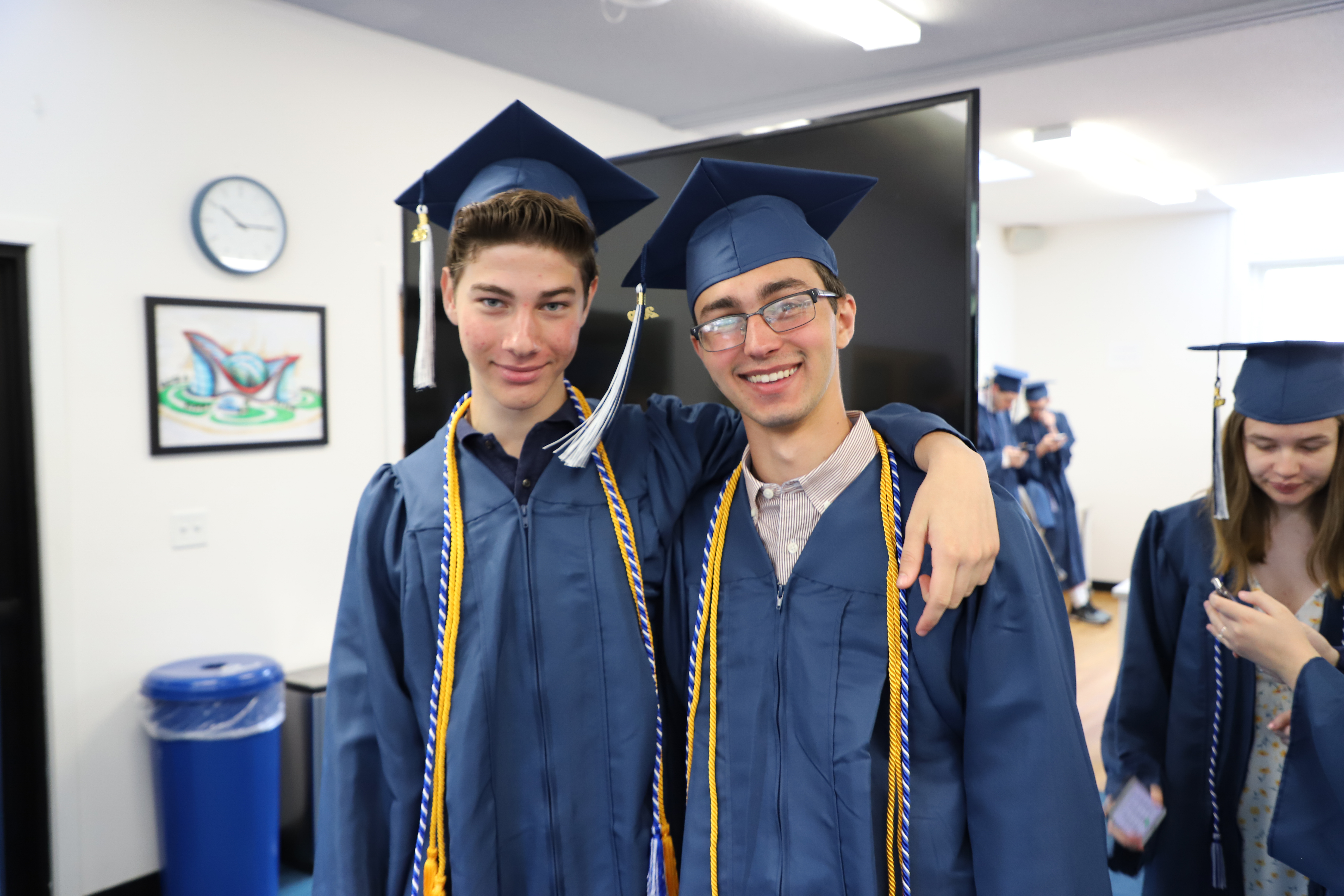 Noah Dunne '19 and Ryan Firenze '19
Salutatorian Noa Gittelman-Egan, discussed the power of finding her voice at CH-CH.
Noa Gittelman-Egan delivering her salutatory address
"It was not until CH-CH that I realized that I was meant to be talkative," said Gittelman-Egan. "I realized that I wasn't loud, I just had things to say. I realized that my fear of being bossy had transformed into my desire to be a boss. Here, I learned that being upfront and opinionated is not a negative personality trait. In fact, I realized that as a woman, I am almost obligated to be strong-willed and passionate about my interests, politics and who I am."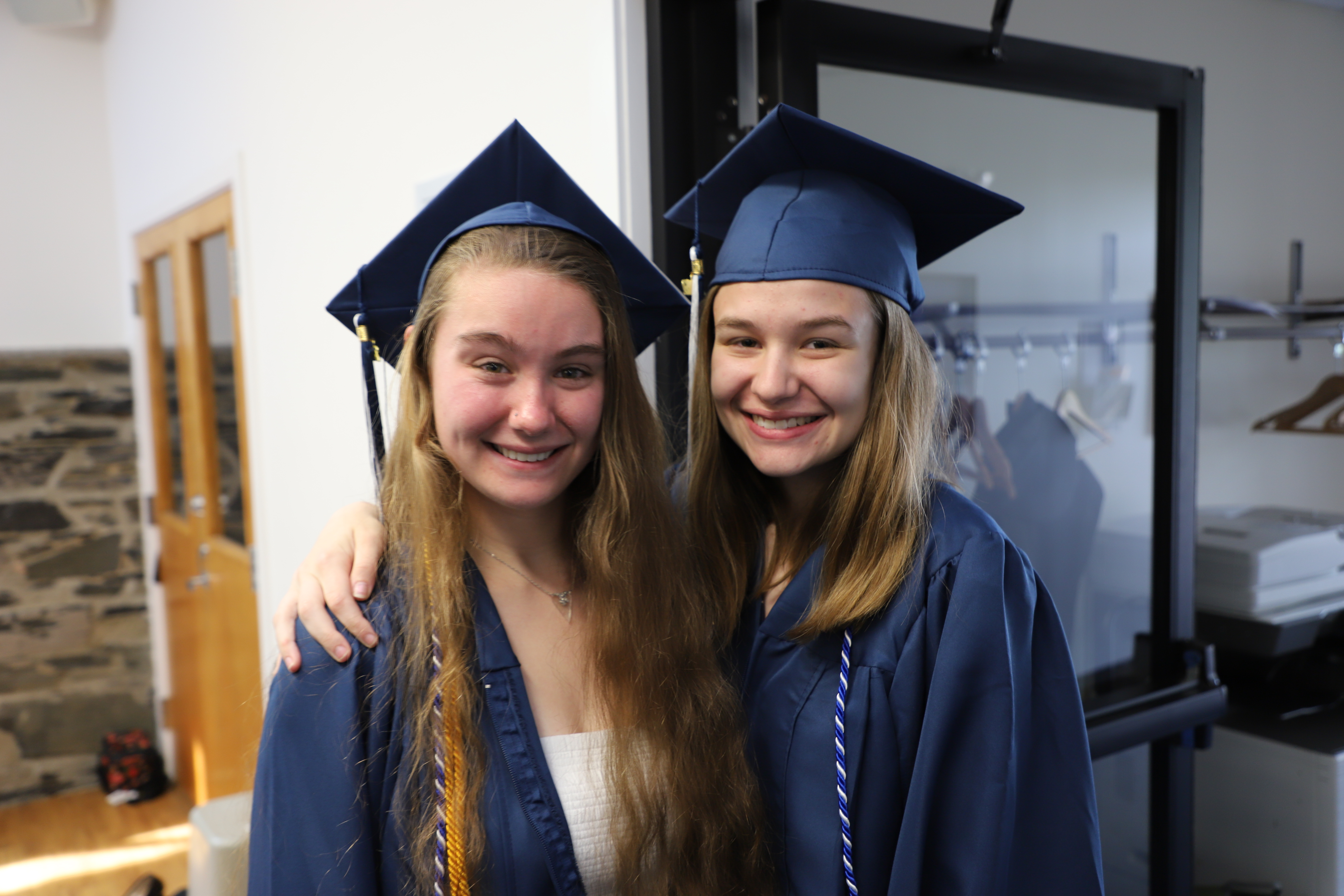 Noa Gittelman-Egan '19 and Leah Coen-Tarbox '19
Head of School, Lance Conrad, Ed.D. closed the ceremony with a message to the graduating class,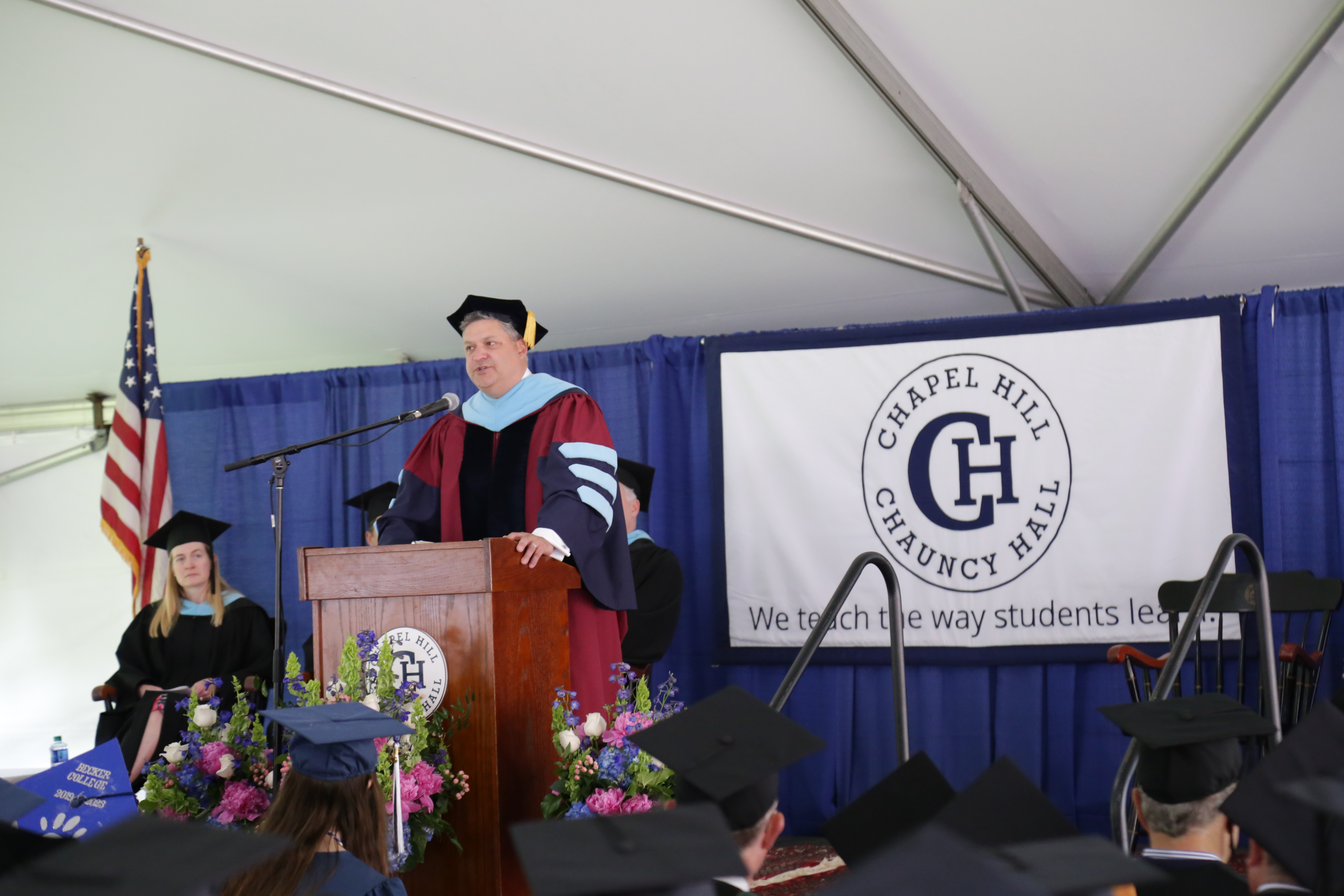 Lance Conrad, Ed.D., delivering the closing remarks
"Our role and responsibility has been to push you to be alert, eager, empathic and intellectually capable young people," said Conrad. "We hope that we have taught you to flourish and to spread your wings as far as they can reach."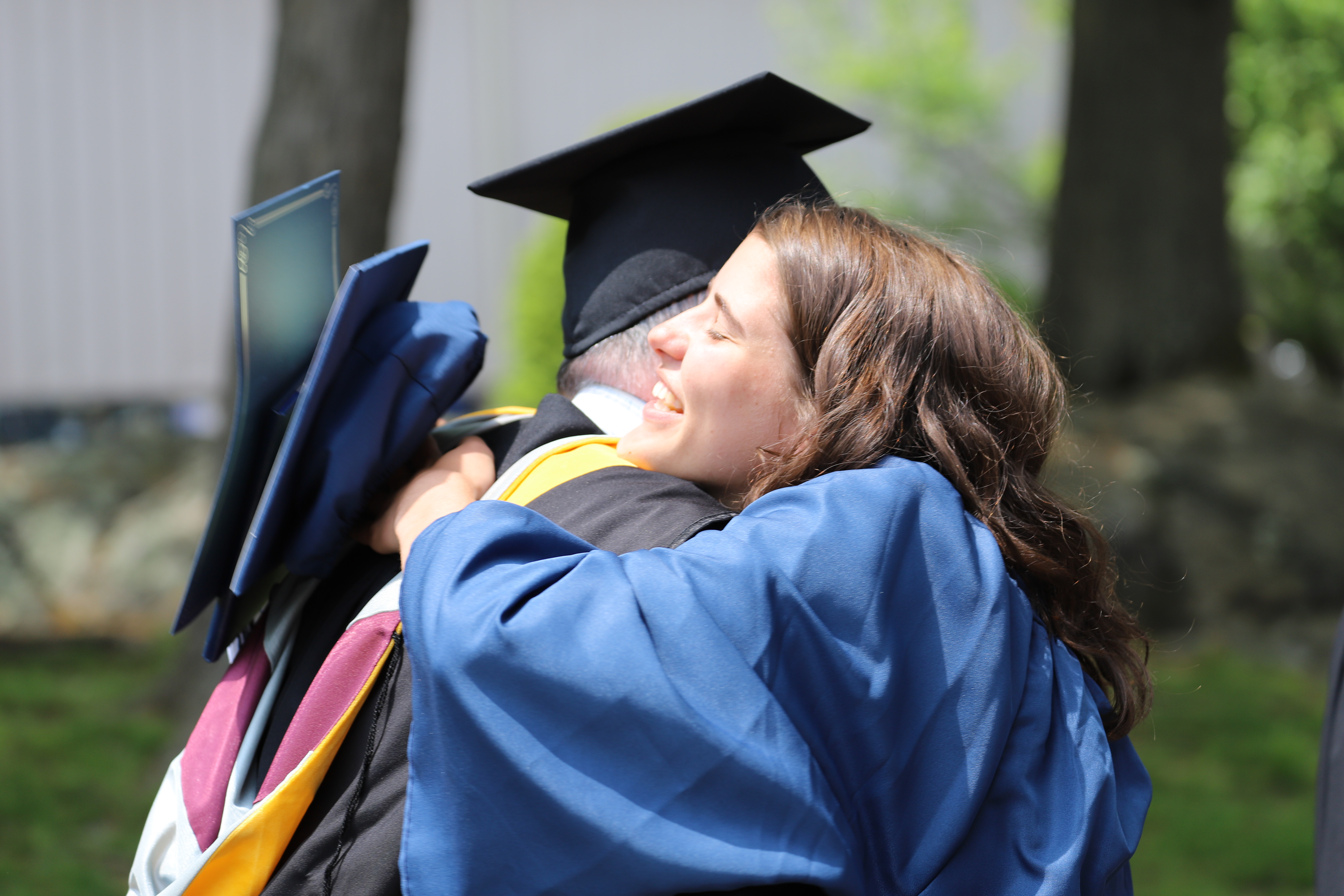 Sophie Bean '19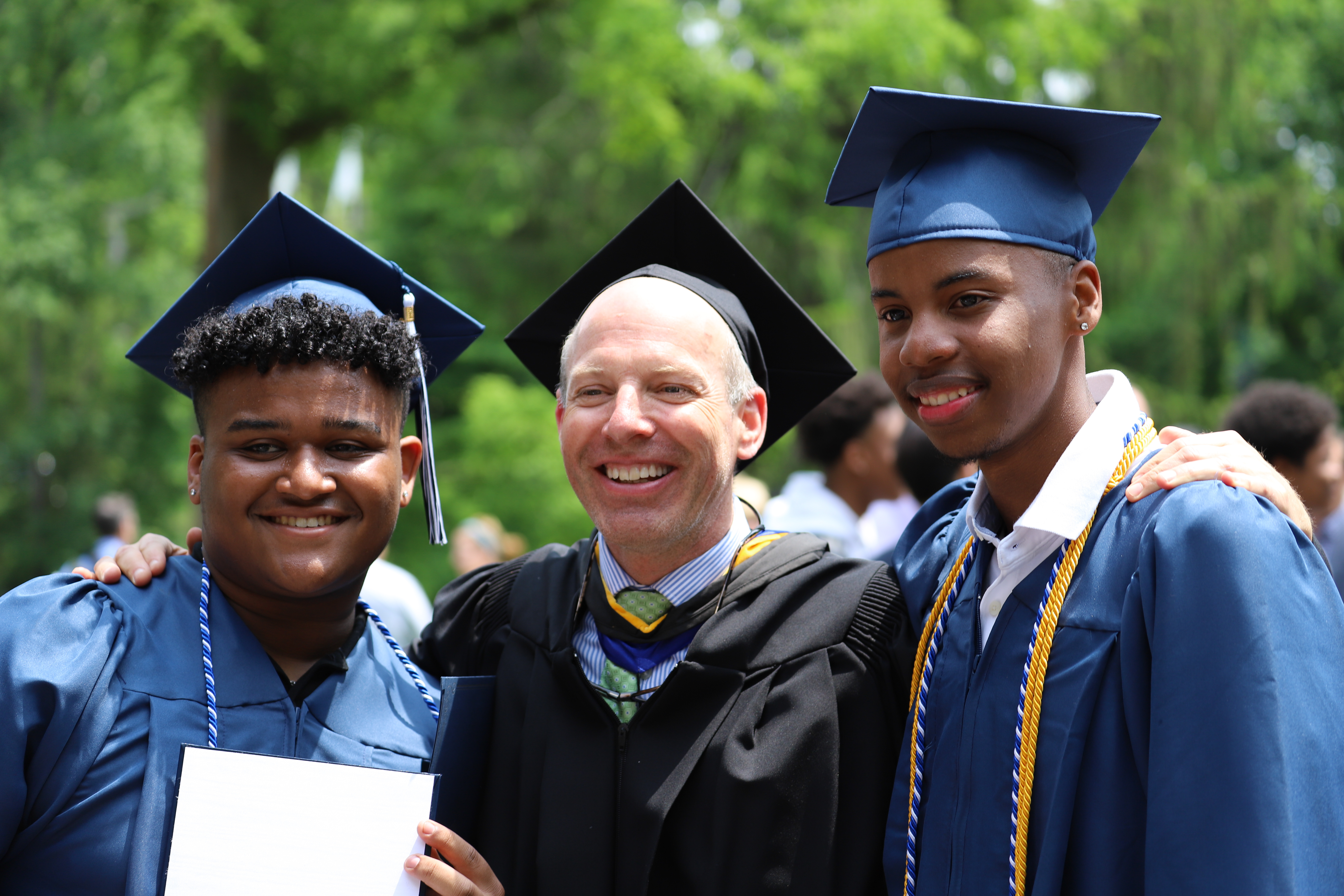 Joshua Sanchez '19, Bill Gilson, and Malachi Longmore '19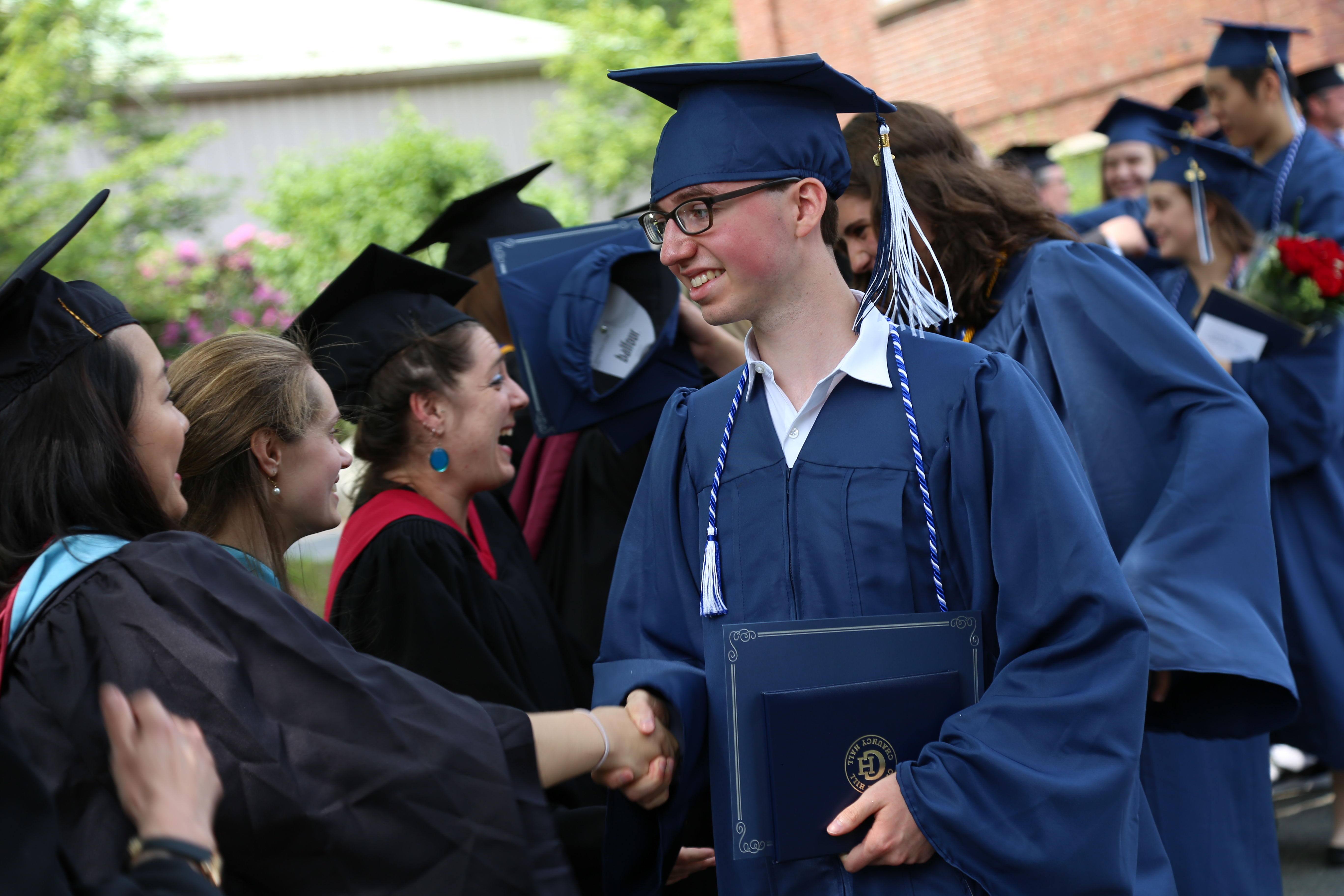 Cameron Barker '19
Congratulations the all of the graduates of the Class of 2019 and the following award recipients:
Junior Awards:
Rensselaer Medal: Benjamin Grayzel
Nancy S. Emery Award: Elena Smith
Harvard Book Prize: Denisa Lata
Senior Departmental Prizes:
English Prize: Noa Gittelman-Egan
Donald Welch Social Studies Prize: Curtis Amory
Allen American Studies Prize: Benjamin Jorgensen-Duffy
Paul Economides Foreign Language Prize: Curtis Amory
Bishins-Strachman Economics Prize: Alexander Nicholas Namchuk
Farnsworth Mathematics Prize: Ryan Firenze
Kurt Science Prize: Mika Struhl
Lewis Clapp Science Prize: Noah Dunne
Performing Arts Prize: Emma Claire Milto Jones
Visual Arts Prize: Sarah Clifford
José Rafael Arboleda Sportsmanship Award: Tyler Sandy
José Rafael Arboleda Sportswomanship Award: Noa Gittelman-Egan
Senior Awards
Siri Akal Singh Khalsa Award: Tyler Sandy
MIT Prize: Gabriel Arnell
Faculty Prizes: Emily Carrigan, Ryan Firenze, Jordyn Kerr, Emma Maniscalco, Jihua Zhang
School Spirit Award: George Vaughn
Headmaster's Prize: Joshua Sanchez
Worcester Prize: Malachi Longmore
Valedictorian: Noah Dunne
Salutatorian: Noa Gittelman-Egan
CH-CH Society Prize: Paula Buerger
Watch the full 191st Commencement Ceremony and full Baccalaureate Ceremony.