On Saturday, August 8th, Chapel Hill-Chauncy Hall School recognized the forty-two graduates of the Class of 2020 in its 192nd commencement ceremony.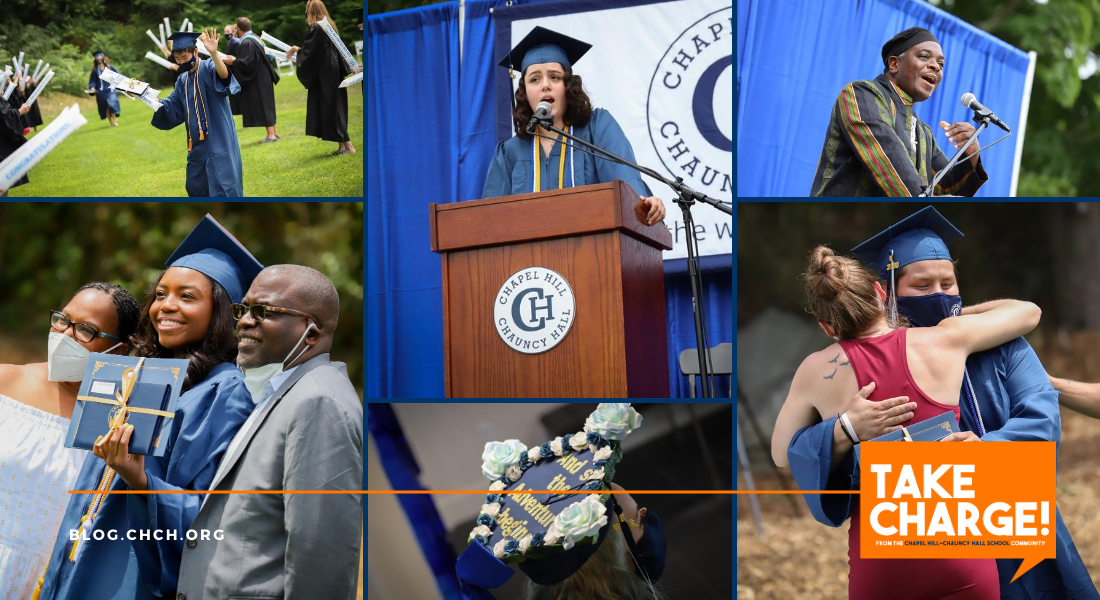 Student speakers included Valedictorian Denisa Lata and Salutatorians Benjamin Grayzel and Zhenqi "Harson" Liu, each delivering an inspirational speech to their classmates. The commencement address was delivered by poet, songwriter, author, workshop facilitator, educator, and former National Poetry Slam Individual Champion, Regie Gibson. In 2018, Gibson taught classes and facilitated workshops at CH-CH, and shared reflections on social and racial justice as the 2018 Baccalaureate Speaker for the Class of 2018.
In his commencement address, Gibson shared his story of self-education, engagement with the meaning of words, and democracy, as well as calling upon the graduates to write the new narrative of the United States.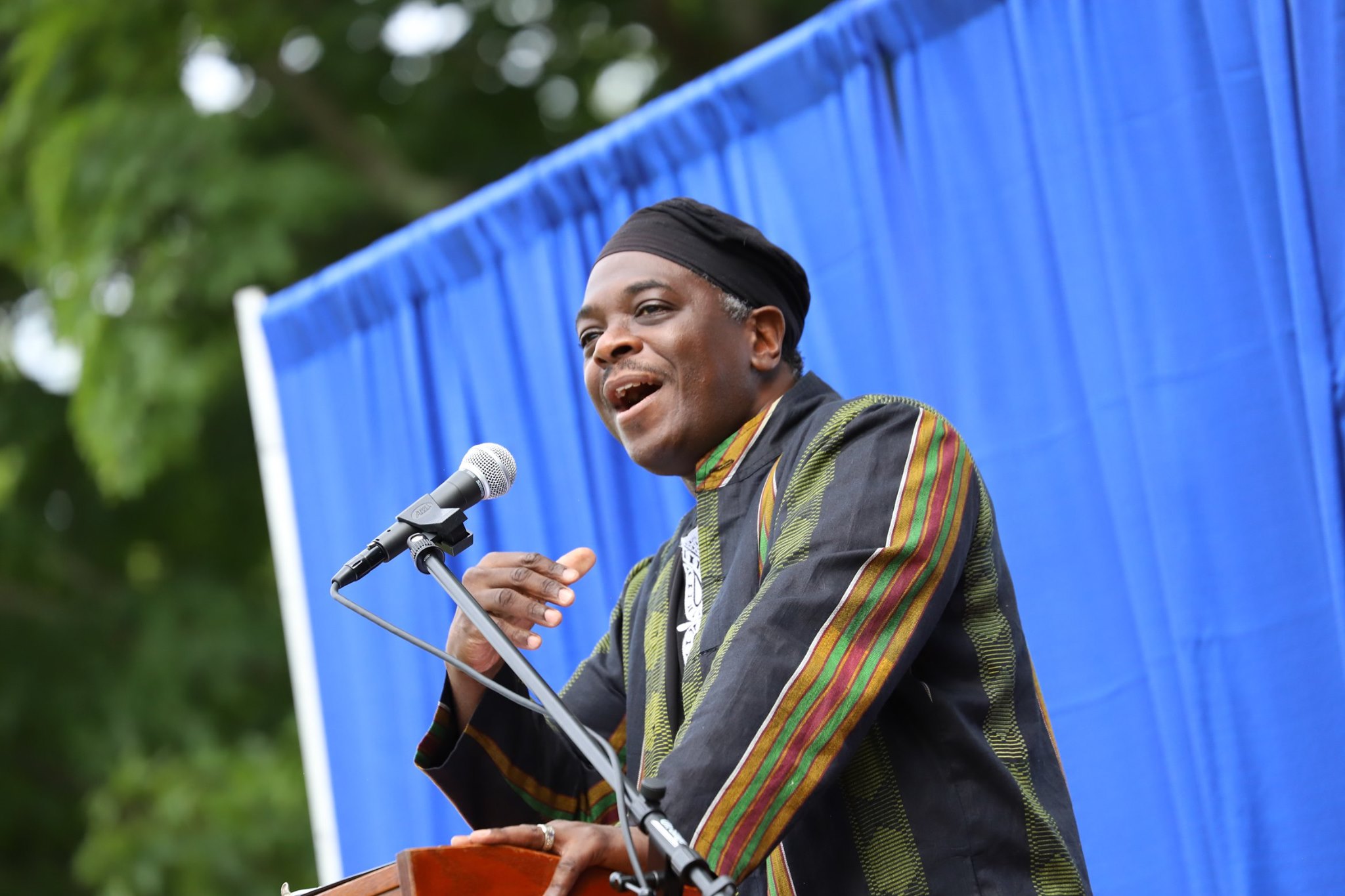 Regie Gibson delivering his commencement address
"Remember it [true and active citizenship] as you begin to write the new narrative of this country... One of inclusion, one in which we embrace self-reflection and introspection, embrace our discomfort to enable equity and a deeper connection. So we can honestly listen and open to each other's different perspectives, and learn to engage beyond our own political rage," said Gibson. "So we can hold hands, heal each other of these broken legs that we've all learned to limp with, and finally move forward together step by trembling step into that welcoming, eye-aching light, into a shining America that reflects the best truth of who we know we are."
In her speech, Valedictorian Denisa Lata praised the graduates for traveling and prevailing through a road battered by an unprecedented global pandemic and a revolution for equality and justice for Black people in this country, and reminded her classmates of the impact they've made on the School.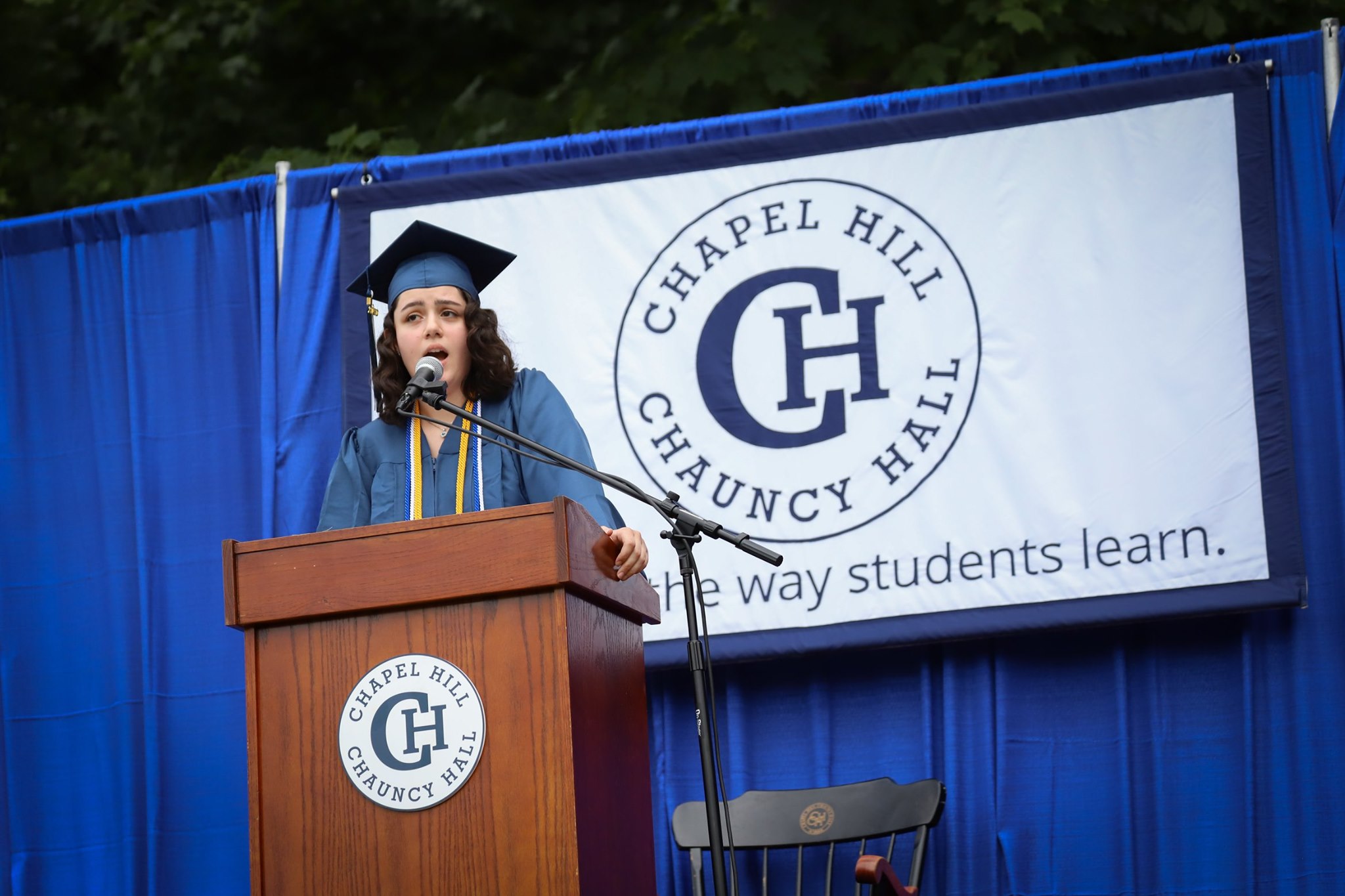 Denisa Lata '20 delivering her valedictory address
"Our work and the work of classes before us led to the founding of the position of Director of Diversity, Equity, and Inclusion. I look forward to seeing the change you foster in this school Ms. Nikki Turpin, and don't crack under the knowledge that many of us are still keeping watch of our school and its progression towards inclusivity, particularly for our students and faculty of color," said Lata. "To people who have qualms against our fight for social justice, history will leave you behind as we all rejoice in each other's similarities and differences."
[read more about CH-CH's Anti-Racism and Equality Initiatives here].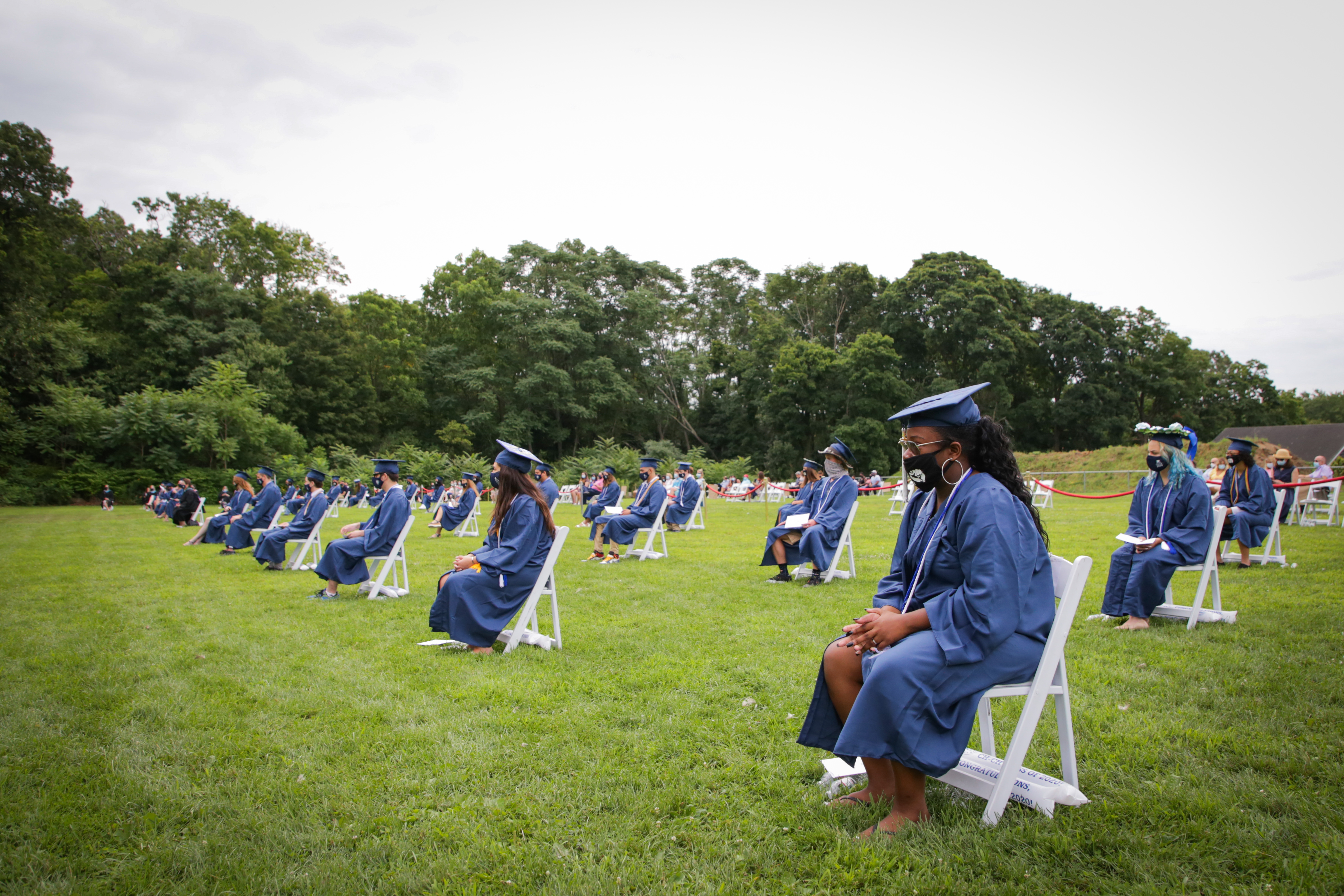 CH-CH Class of 2020 Graduates During the Commencement Ceremony
Co-Salutatorian Benjamin Grayzel stressed the importance of keeping a positive mindset as much as possible.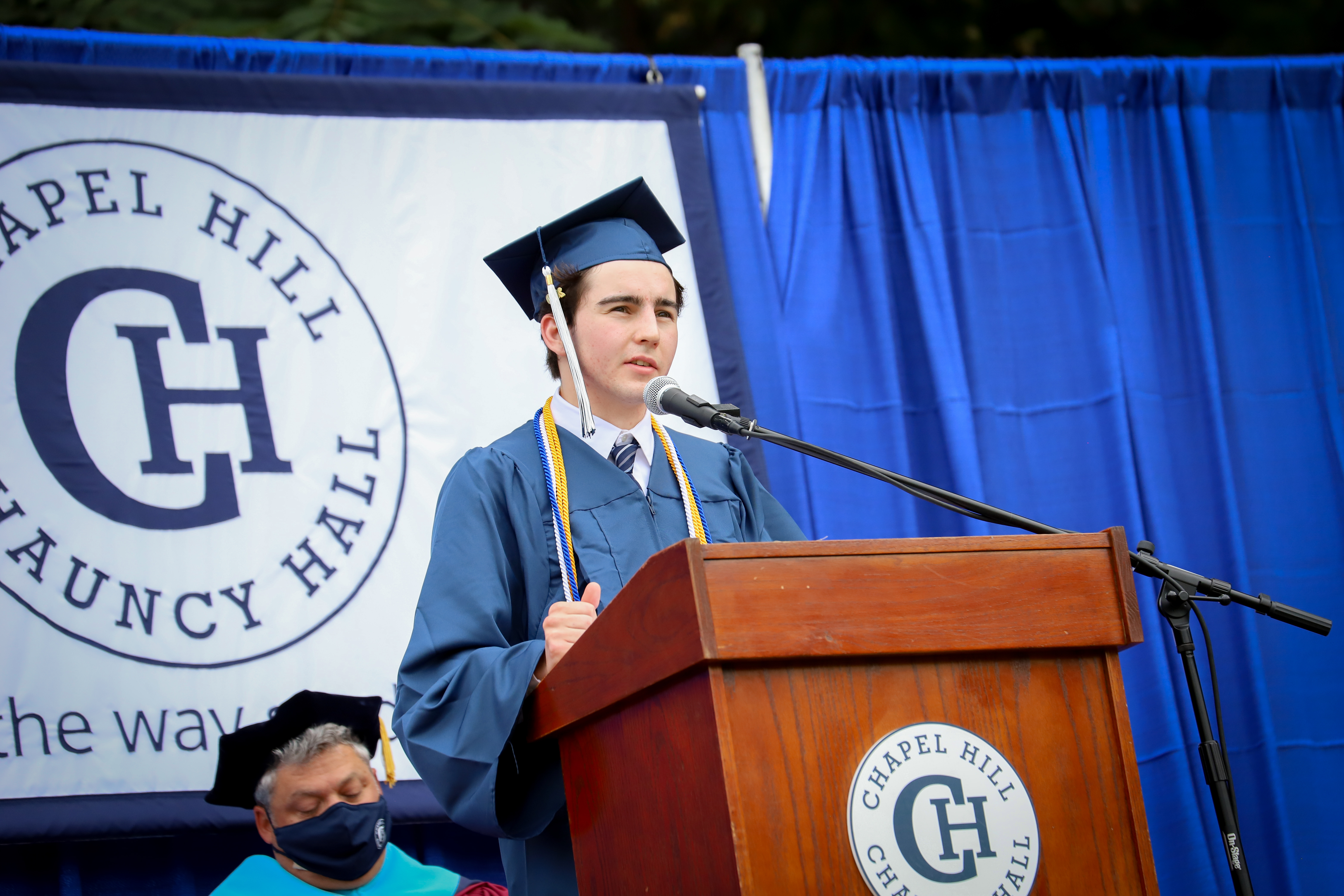 Benjamin Grayzel '20 delivering his salutatory address
"Once you start looking, you can find so many great examples of people caring for each other...and it makes you realize how much people like to support one another. You see it in so many places... the musical artists who are performing virtually, the two little girls who spent their allowance to buy toilet paper for the elderly, and above all, our incredible healthcare workers… gratitude for them is everywhere," said Grayzel. "It's not just individuals who are supporting each other right now, the global community is coming together… This speaks to a profound aspect of human nature, discovery and innovation will always march on. I don't know about you, but I find that incredibly uplifting."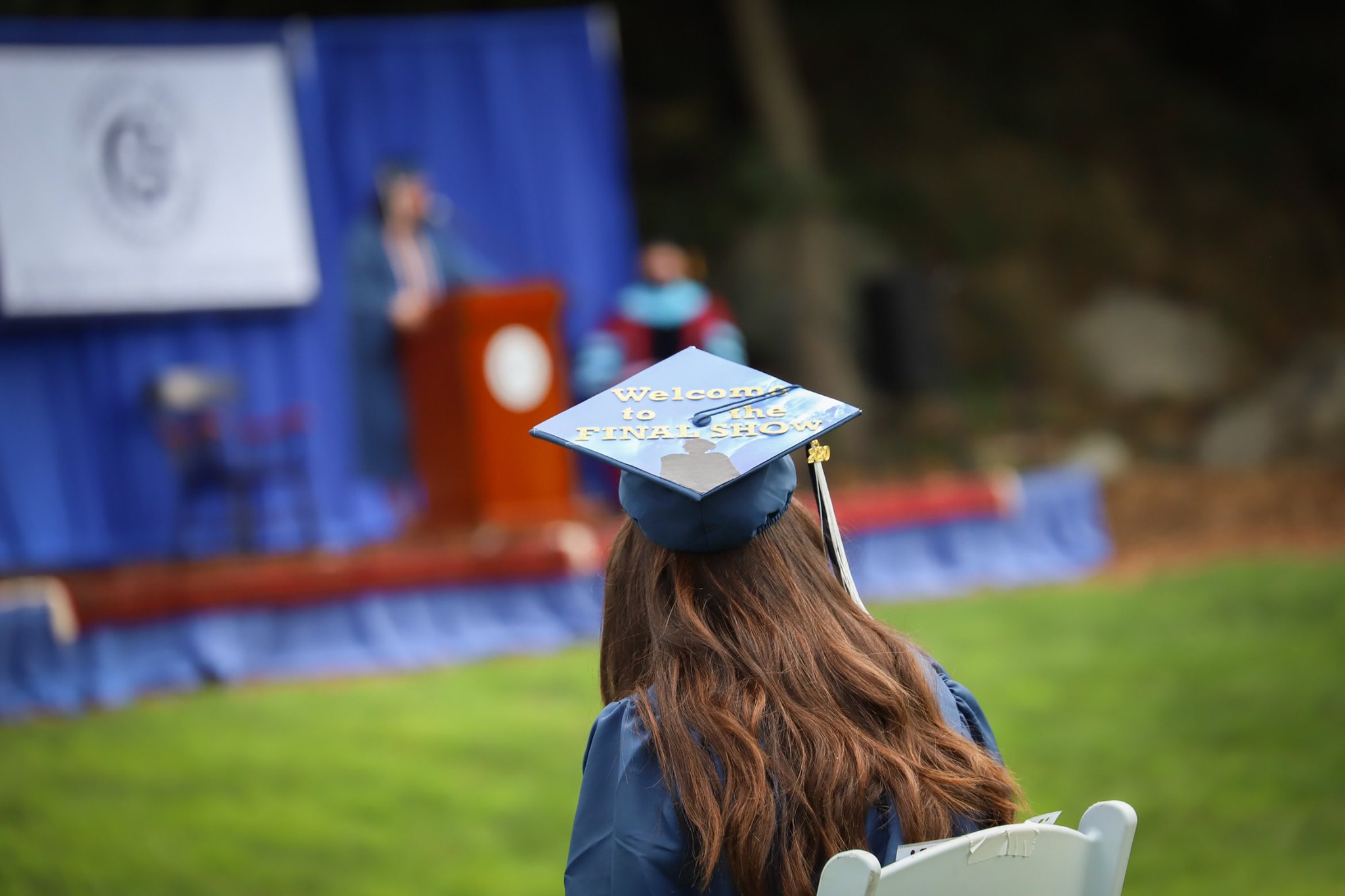 Co-Salutation Zhenqi "Harson" Liu discussed the importance of friendship and community at CH-CH.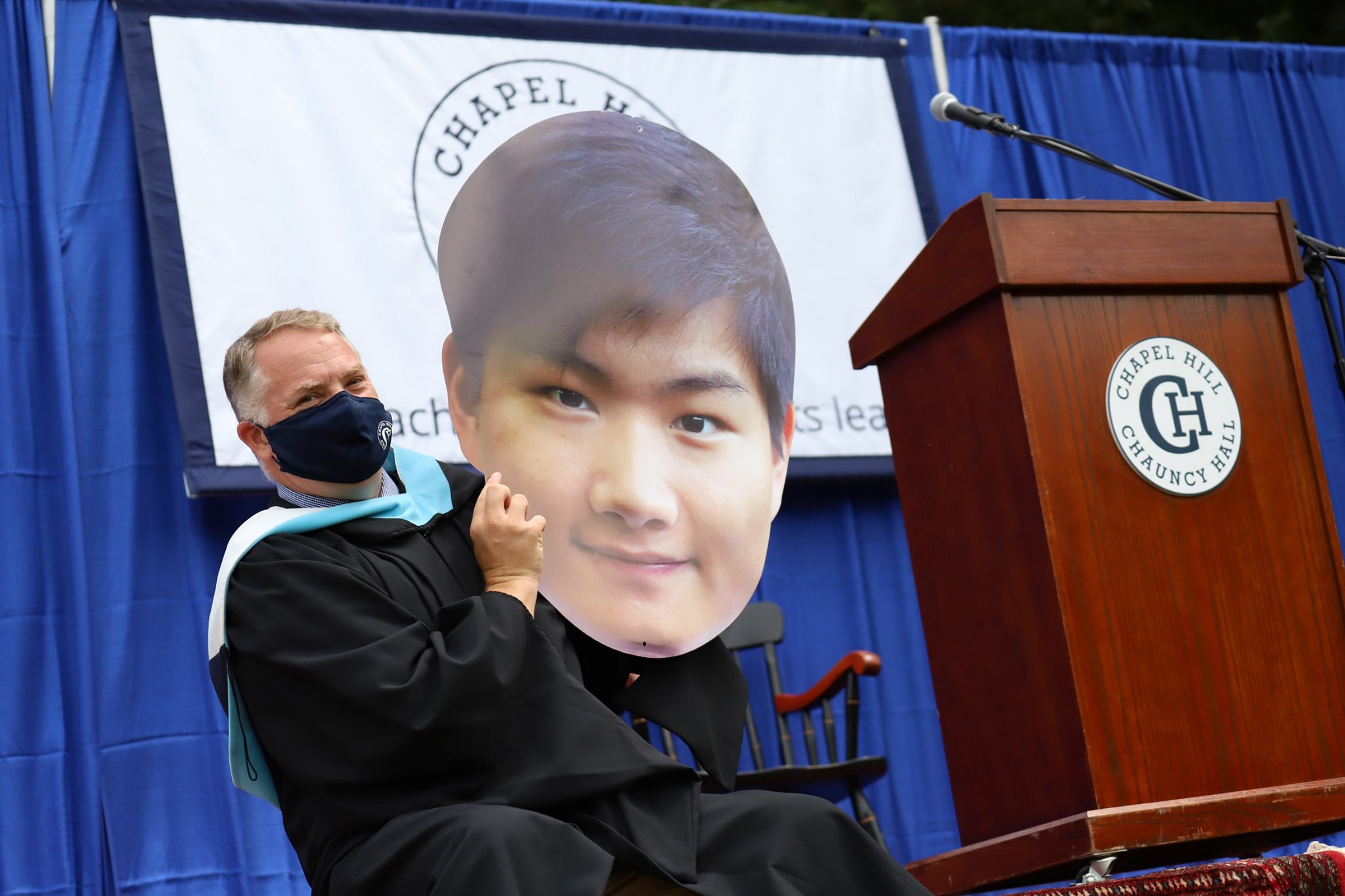 Assistant Head of School Josh Bubar holds Zhenqi "Harson" Liu' 20 cut-out as Liu delivers his salutatory address virtually
"We've all learned things — important things — that will help us get into colleges, become leaders, and succeed in life. It wasn't the desire to get all "A"s or picking up packages from the mailroom every day that got me through these past four years," said Liu. "It was all of you, my friends, my Charger family who made the difference… you are all welcoming, caring, and friendly. These are simple words, but they are the most important characters that we, Chargers, have and it means a lot."
Click below to listen to Zhenqi "Harson" Liu '20 entire salutatory address:
Head of School, Lance Conrad, Ed.D. closed the ceremony with a message to the graduating class,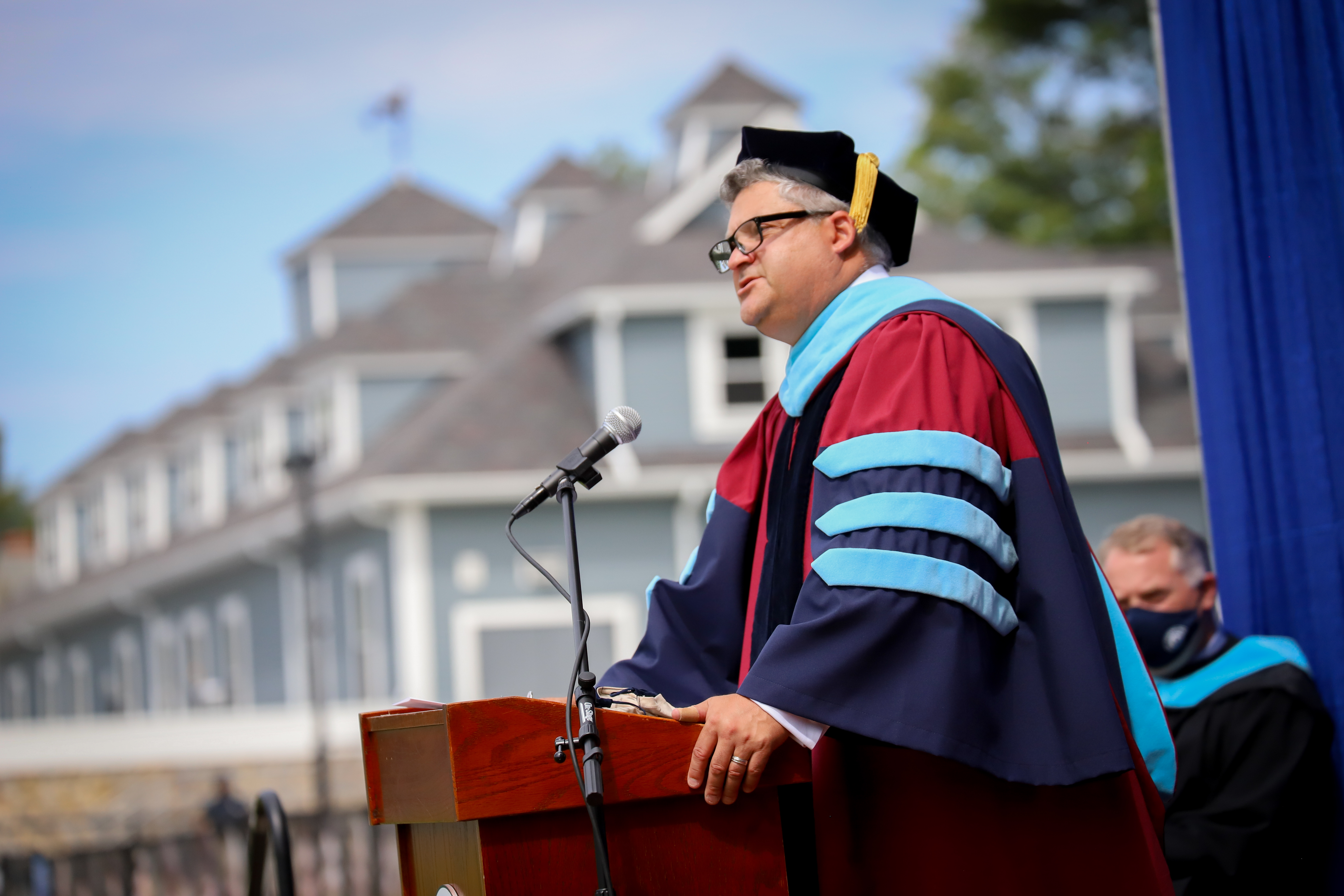 Head of School, Lance Conrad Ed.D., delivering ceremony closing remarks
"Our role and responsibility has been to push you to be alert, eager, empathic and intellectually capable young people," said Conrad. "We hope that we have taught you to flourish and to spread your wings as far as they can reach."
Congratulations to the Class of 2020 and the following award recipients:
Junior Awards:
Rensselaer Medal: Aaron Codrington
Nancy S. Emery Award: Christian Choumenkovitch
Harvard Book Prize: Sidney Dual
Certificates of Distinction:
Math and Science: Caroline Burke, Zhenqi "Harson" Liu, Benjamin Grayzel, Aydin Sengun
Humanities: Phannita Siriwattanawong (Mandarin); Denisa Lata (Spanish)
Arts: Xiaoran Luo, Jasper Kan, Alicia Walker, Maeve Kydd
Senior Departmental Prizes:
English Prize: Maeve Kydd
Donald Welch Social Studies Prize: Caroline Burke
Allen American Studies Prize: Benjamin Grayzel
Paul Economides Foreign Language Prize: Denisa Lata
Bishins-Strachman Economics Prize: Denisa Lata
Farnsworth Mathematics Prize: Benjamin Grayzel
Kurt Science Prize: Phannita Siriwattanawong
Lewis Clapp Science Prize: Caroline Burke
Performing Arts Prize: Zhenqi Liu
Visual Arts Prize: Alicia Walker
José Rafael Arboleda Sportsmanship Award: Dylan Gomes
José Rafael Arboleda Sportswomanship Award: Caroline Burke
Senior Awards
Siri Akal Singh Khalsa Award: Hannah Goodman
MIT Prize: Benjamin Grayzel
Faculty Prizes: Caroline Mia Burke, Dylan Gomes, Nia Frances Williams, Phannita Siriwattanawong, Elena Lee Smith, Henry Kyeong Lebed
School Spirit Award: Yaqi Liu
Headmaster's Prize: Benjamin Gold
Worcester Prize: Denisa Lata
Valedictorian: Denisa Lata
Salutatorian: Benjamin Grazyel and Zhenqi Liu
CH-CH Society Prize: Stephanie Daniels
Watch the full 192nd Commencement Ceremony and full Baccalaureate Ceremony.