I currently have 2,357 photos in my phone. They are mostly of funny moments, family, celebrations...all captured for nostalgia.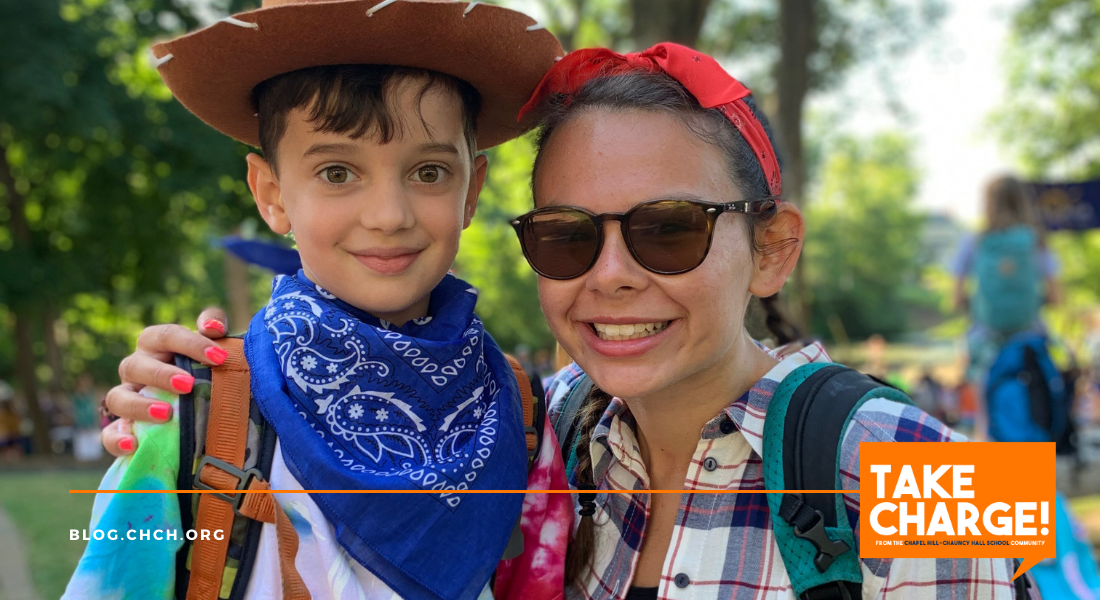 2,356 of the pictures are a string of blurred but happy memories, scrolled through at random when I pull them up. But there is one I always seem to look for when I swipe through. I do not need to actually see it to recall it perfectly. It instantly brings me back to the moment it was taken. The smiles are deep, the happiness honest, the pure joy captured and projected back, reflecting my journey and purpose in the shining eyes of a child.
I have always had a fondness and natural connection with younger children. Having the volunteer position as a "Young Leader" at Running Brook Day Camp at CH-CH in the summer of 2017 was an opportunity of a lifetime. There is no better way to spend summer days than playing games, swimming, and having dance parties with a group of three- and four-year-olds.
One camper in particular captured my heart. For both of us, it was our first summer at camp. We started this journey together, both anxious of what to expect. But while I had years of practice at new beginnings, he had little experience to draw from. I knew immediately that this young camper might need more assistance on this new journey, a journey that was awfully familiar.
Following that first summer, I was certain that I would pursue early childhood education. I returned to camp the following summer, and when it came time to craft a schedule for my senior year, I knew I wanted to focus on learning about children with social-emotional and behavioral issues and how to foster coping strategies to help them thrive. The faculty and staff at CH-CH and Running Brook supported me in designing an Independent Study in Early Childhood Education that allowed me to pursue these goals in meaningful ways.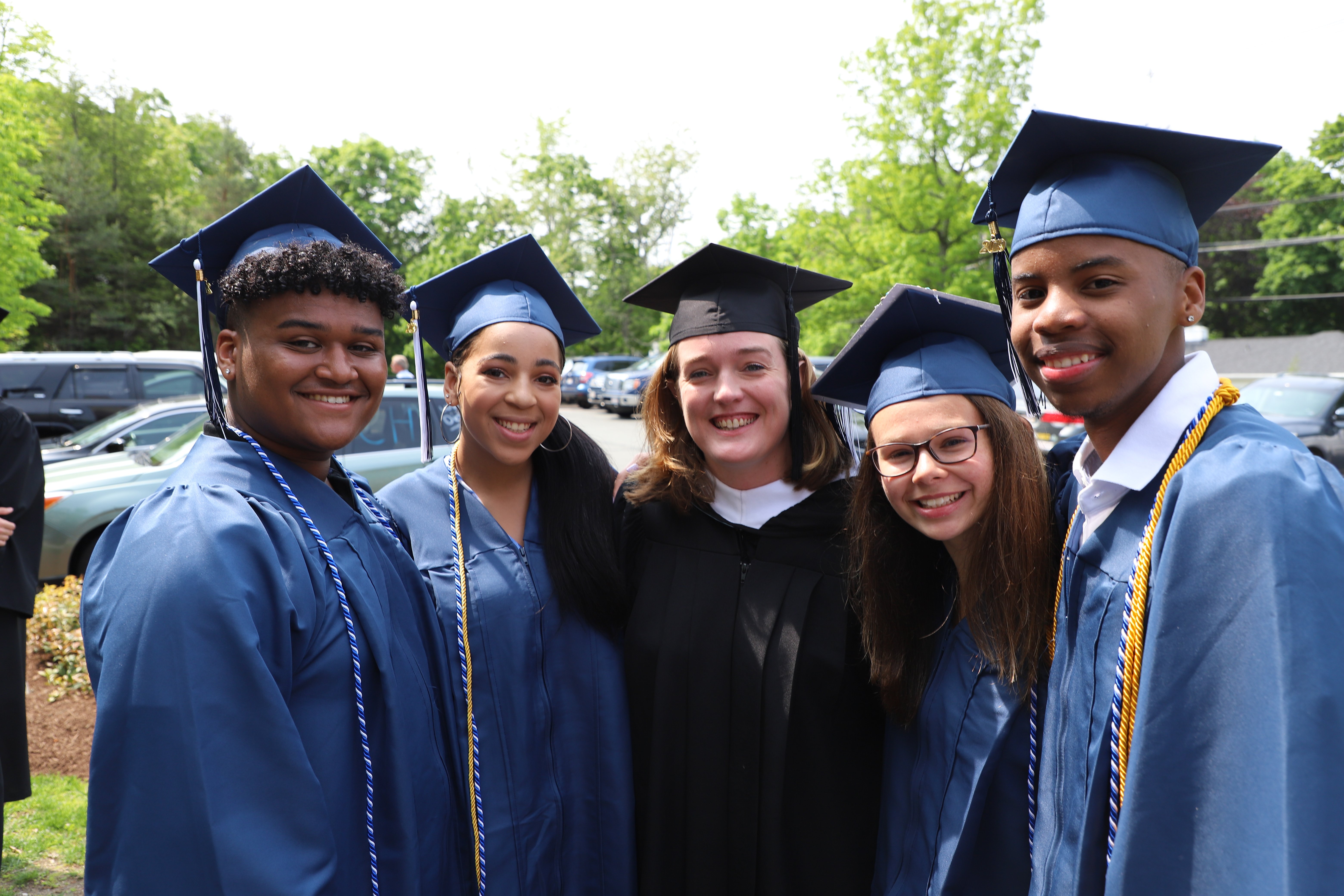 Joshua Sanchez '19, Kathleen Curry '19, CH-CH teacher and coach Jacquie Macdonald, Emma Maniscalco '19, and Malachi Longmore '19.
With help from the Running Brook leadership team and with some flexibility in my academic schedule, I interned at The F.U.S.E. School: a pre-K through first grade program that specializes in working with children who struggle emotionally, socially, and behaviorally. At F.U.S.E. I was able to put to practice many of the intervention skills I had been honing during the summer in a classroom setting. My senior elective courses at CH-CH supported this work as well: When it came time to write my capstone research paper in Adolescent Psychology, I was able to draw upon scenarios from my work at F.U.S.E. to build a case study and help formulate an argument. Similarly, I focused my English capstone paper on children's literature—specifically wordless picture books—and the importance of early childhood literacy. And I partnered with our wonderful Assistant Director of Summer Programs, Alex Guard, meeting regularly to debrief my experiences in the classroom and consider how we would bridge that work to becoming a lead counselor for our youngest campers this summer. All these experiences have brought tremendous confidence and purpose to my academics and are currently fueling my studies in Early Childhood Education at Lasell College.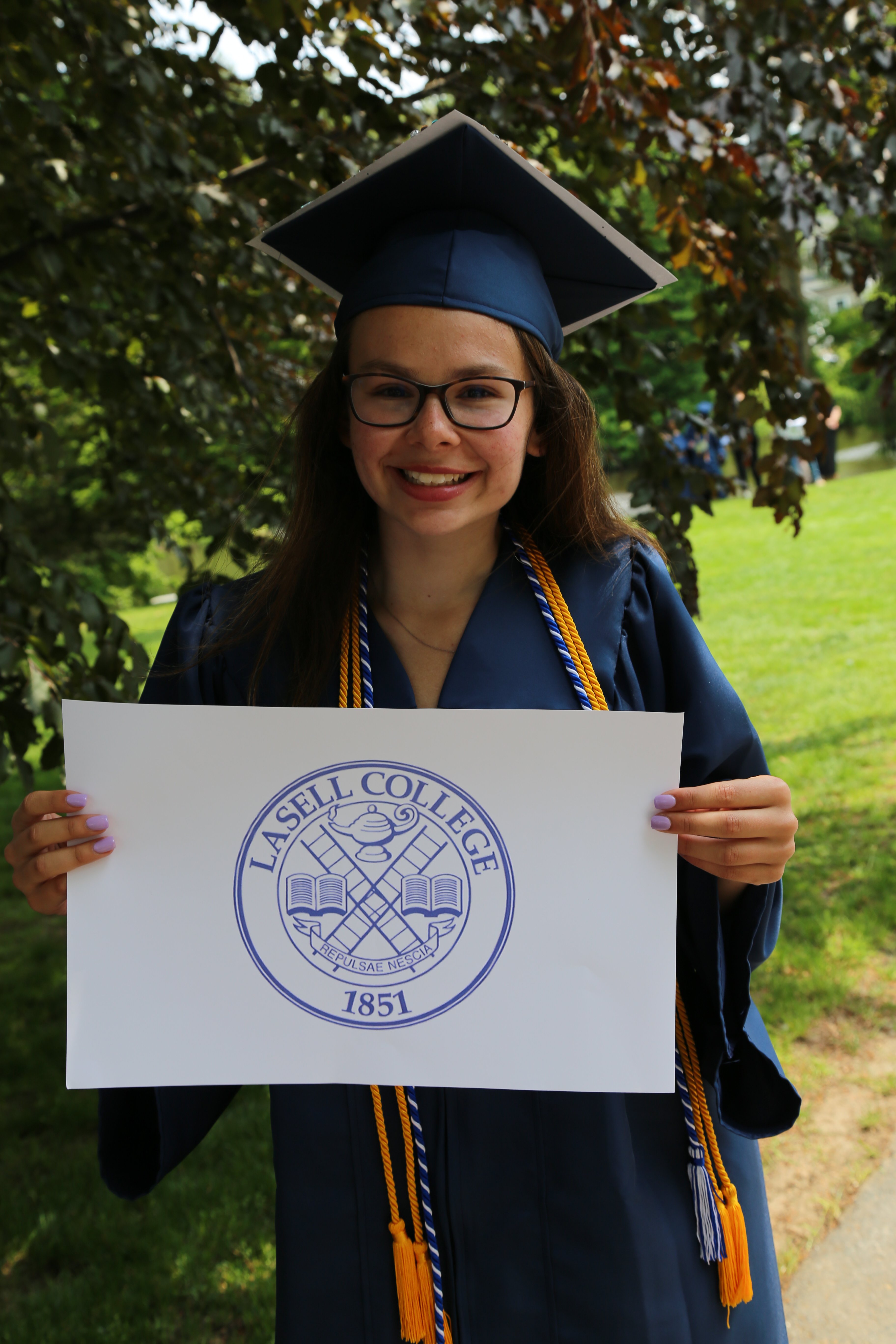 I have learned to approach my work with children and move toward my goals with care and empathy. Each child is different, and I have learned to be patient, calm, and to work to understand their needs and find their talents. When I was young, many adults in schools neglected to engage me in this way, labeling me an "issue" because I experienced anxiety. Over time, I learned to identify the adults who would work with me instead of putting me into a box, and I realized that I could work with my anxiety and embrace it as part of who I am. This has been an enormous part of my CH-CH education and my development as a young educator: I strive to make kids feel loved and special because of their differences and to meet them where they are. Honing patience and empathy has sharpened my academic skills as well: I have learned to take extra time to fully understand a concept before moving on and to allow others to demonstrate their knowledge and understanding rather than forcing them to approach work my way.
I have heard from other educators that the most impactful moments are the victories in the classroom that occur when a student is struggling to learn a new idea. Watching a student's expression change from frustration to elation, from anger to joy, is the moment the educator knows they have made a difference. I look forward to a career continuing to pursue and realize these moments— to make more lasting memories of care and support for young children.
Emma Maniscalco is a member of Chapel Hill-Chauncy Hall's Class of 2019. Learn more about Independent Studies and the curriculum at CH-CH.