Chapel Hill-Chauncy Hall is excited to launch a new series titled
Rewrite Your Story
, a collection of stories from students in the CH-CH community who are accomplishing more than they ever thought possible. Follow the stories at
www.chch.org/story
.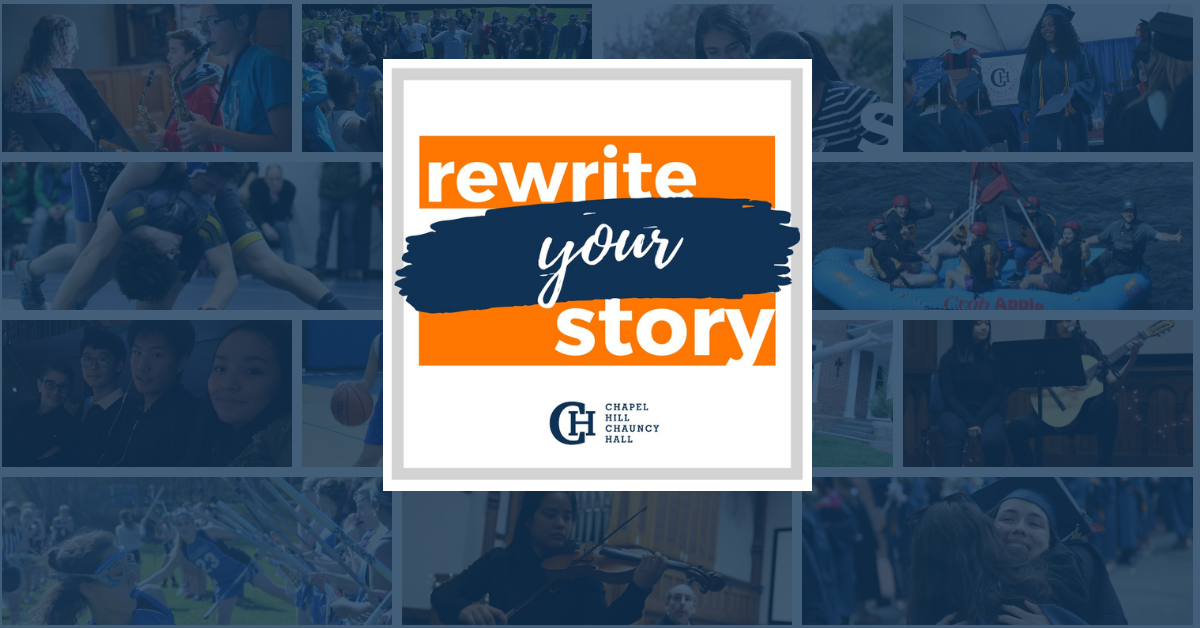 About the Series
There are so many inspiring stories at CH-CH, and as a member of the community we have the opportunity to hear them regularly, whether it's through a conversation in the Charger Cafe or at a Senior Presentation. The aim for the Rewrite Your Story series is to give those beyond our immediate community the chance to hear these stories that have moved so many of us.
The first installment of the Rewrite Your Story series focuses on five students who are taking bold steps to accomplish their goals. Make sure to click on the stories below to read more and see their individual video story.
Mel T. '21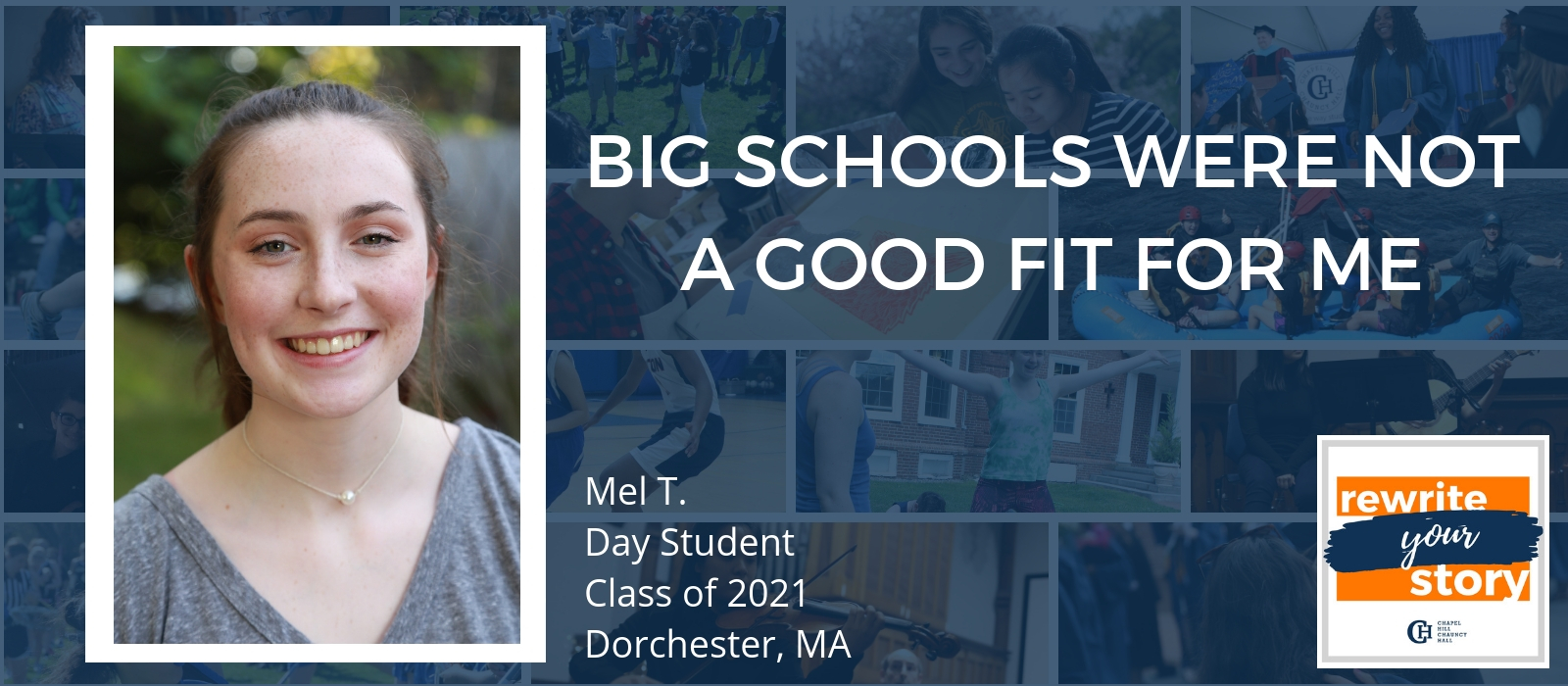 Mel attended a big public school and ended up anxious and feeling more like a number instead of the individual she is. She decided to attend Chapel Hill-Chauncy Hall School as a day student and even she is surprised by the long list of accomplishments in her first year. Click HERE for Mel's complete story.
Dylan G. '20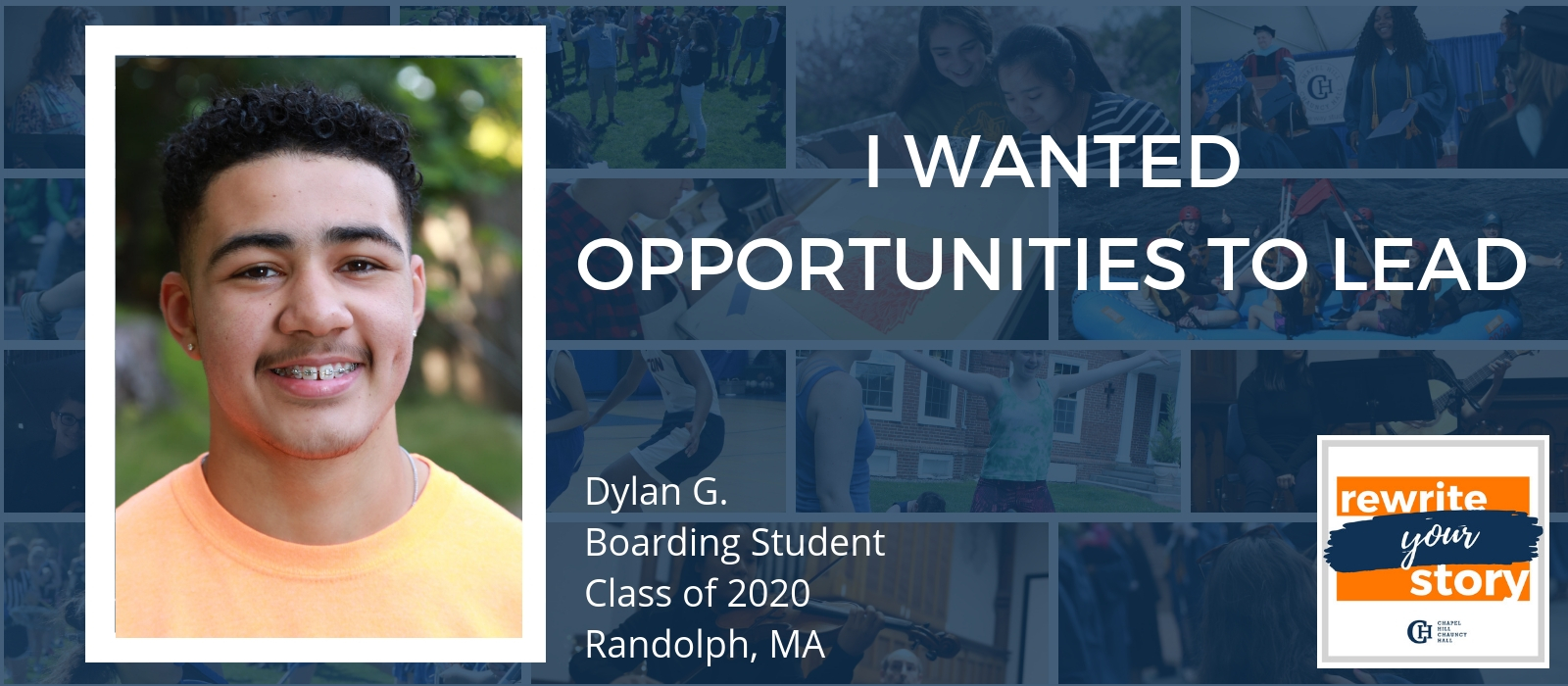 Dylan grew up witnessing the leadership example of his older brother, and when his younger brother came along, he felt the drive to become a leader himself. Now, as a boarding student at Chapel Hill-Chauncy Hall, Dylan has found his spot as a leader in the classroom and in the dorm. Click HERE for Dylan's complete story.
Austin P. '19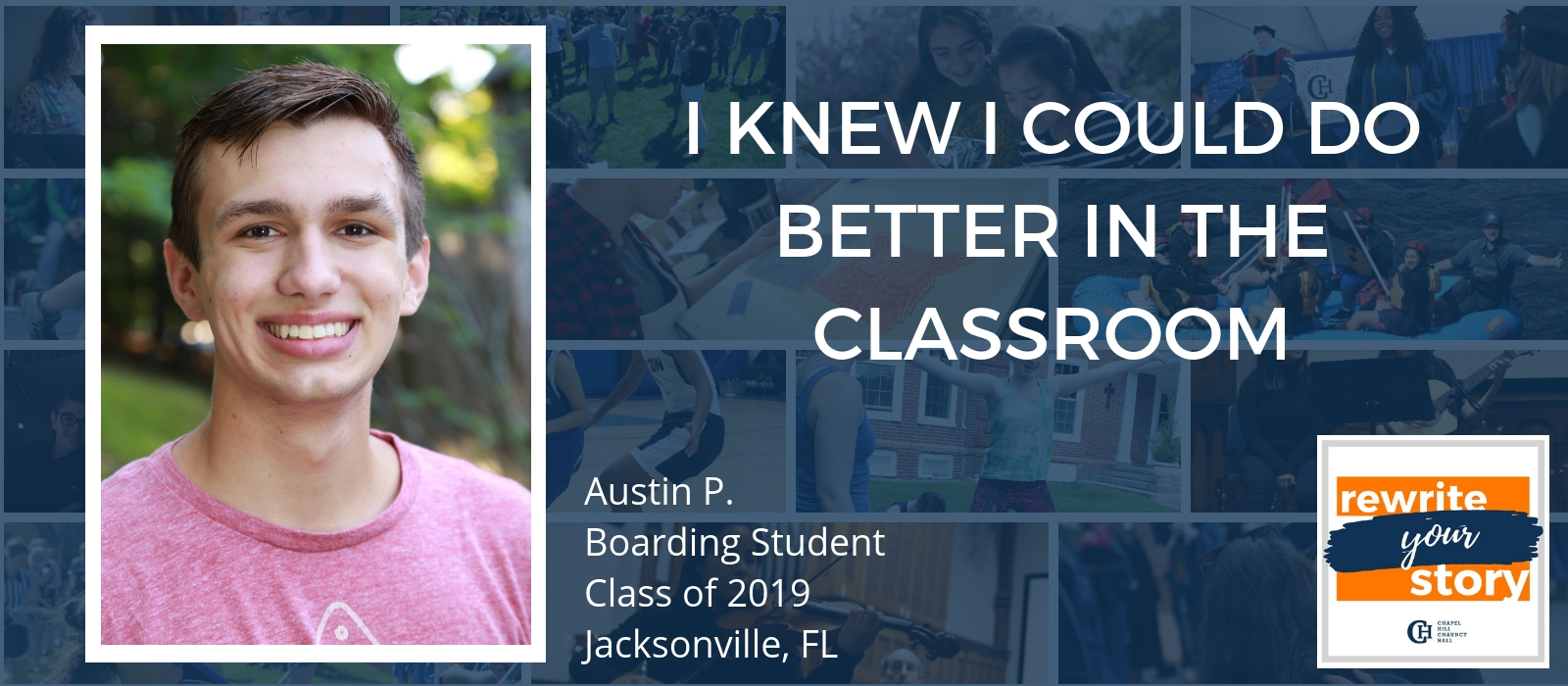 As a high school student in Jacksonville, Florida, Austin's goal became to "get through" high school, and his grades began to fall as a result. He knew his true potential, so he decided he needed to change his environment. Austin enrolled as a boarding student at Chapel Hill-Chauncy Hall with two goals: to prepare for college, and to play basketball. Click HERE for Austin's complete story.
Sidney D. '21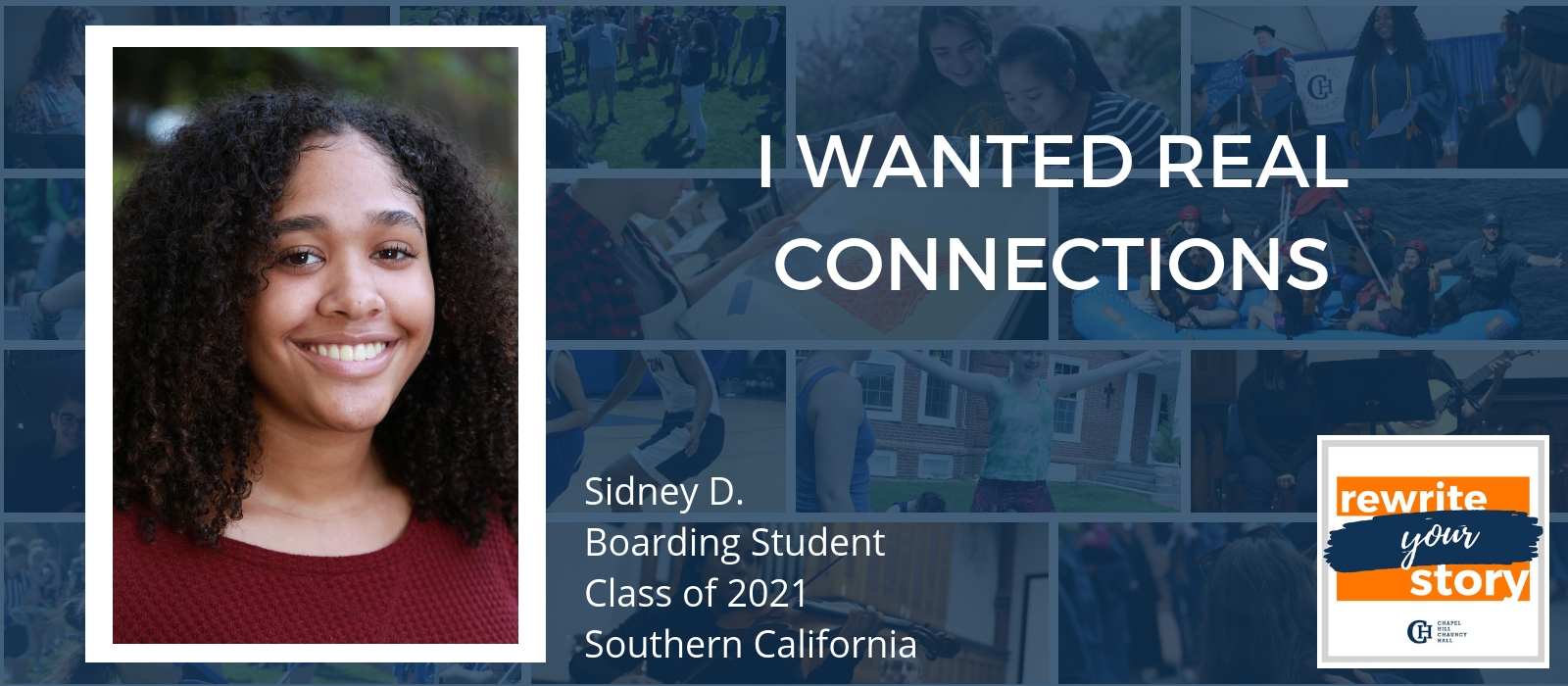 As a self-proclaimed "class clown", Sidney was always able to make her classmates laugh, but she wasn't making real connections. Sidney also loves an adventure, so she jumped at the opportunity to move across the country to attend a boarding school. One of Sidney's goals was to make real, honest connections with friends. She wanted an environment where others could get to know and value who she really is. Click HERE for Sidney's complete story.
Benjamin G. '20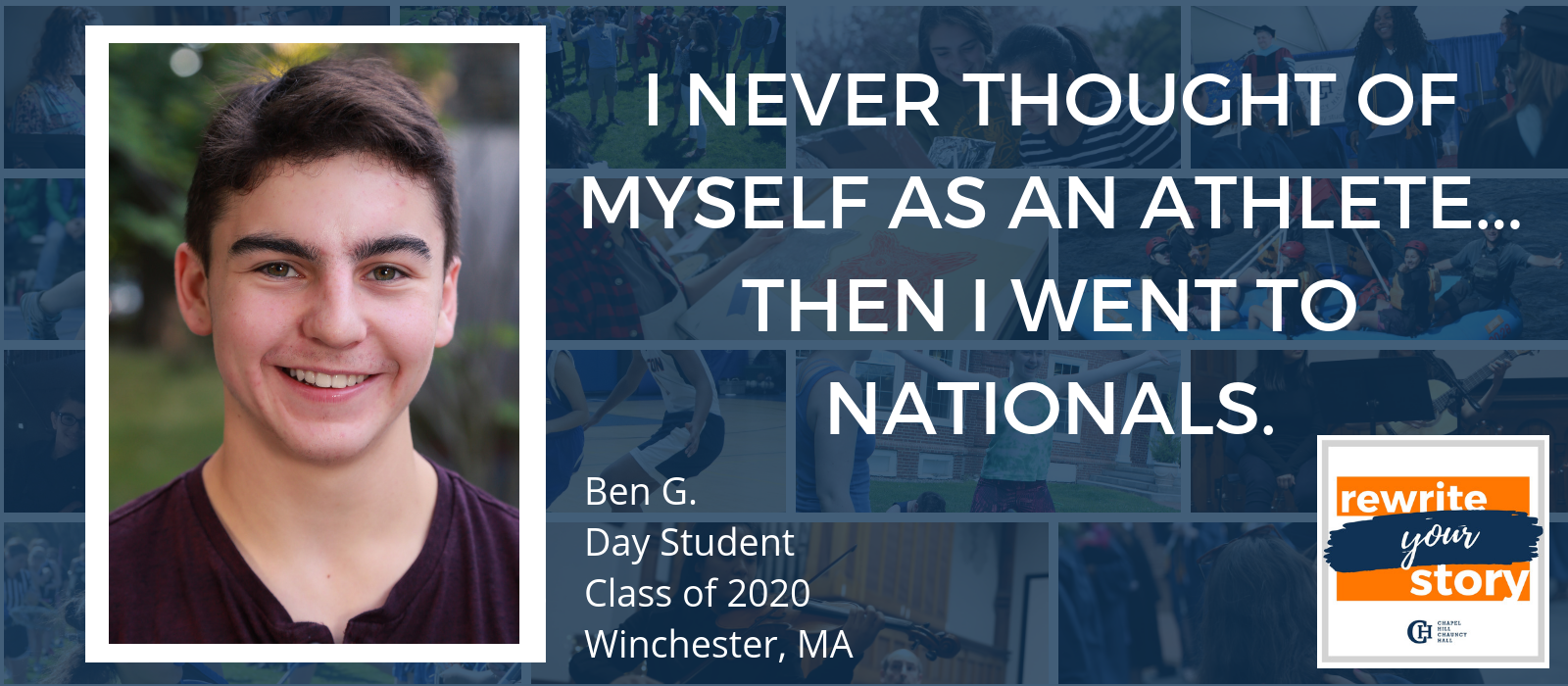 Ben had never considered himself an athlete. Then, while in a class at Chapel Hill-Chauncy Hall School his freshman year, a group of friends encouraged Ben to join the wrestling team, which led to competing at the national level. Click HERE for Benjamin's complete story.
The Story Behind the Title
The title for the series, Rewrite Your Story, came from CH-CH Skills and Academic Support teacher, Maura Henry. Speaking to parents at a recent open house, Maura stated, "I have two goals for new students in Skills and Academic Support at CH-CH, first, to help them rewrite the story of who they think they are, and second, to show them that this is what school can look like for them."
Chapel Hill-Chauncy Hall is a coeducational college preparatory school located in Waltham, MA. With more than 190 years of history, the school remains dedicated to teaching the way students learn. that teaches the way students learn.