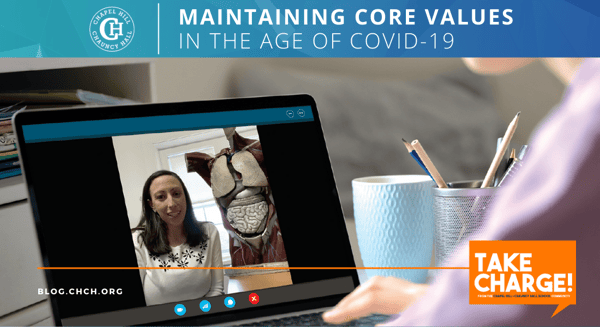 The Chapel Hill-Chauncy Hall Admissions team recently held a live webinar to highlight the learning, support, and the School's sense of community during the 2020 spring trimester. CH-CH Director of Enrollment Management, Lisa Pelrine, was joined by current students, parents, teachers, and administrators to discuss maintaining curriculum, opportunity, relationships, and empathy in the age of COVID-19.
Due to the necessary campus closure prompted by the COVID-19 outbreak in March, Chapel Hill-Chauncy Hall continued to provide instruction and assessment of student learning through online platforms. Faculty facilitated learning by maintaining teacher-student contact in a virtual classroom environment. This was a new experience for teachers, students, and parents, and it was crucial that CH-CH kept open communication throughout.
In response, the CH-CH Admissions team took the initiative to bring the entire admissions process into the homes of prospective families. The result? The Virtual Admissions Experience! More than 40 members of the CH-CH community came together to provide families with an authentic look at academics, support, college counseling, boarding, student life, arts, athletics, and much, much more.
The rebroadcast of the webinar can be found here, and in this article, we will outline some of the topics and questions discussed by prospective parents.
Q: What are the CORE values of CH-CH?
A: The way we like to talk about the work we do and keep central at CH-CH is using the acronym, CORE.
Curriculum takes many forms - college-prep academics, which includes our signature Skills and Academic Support program, 17 AP and Honors level courses, and everything in between. Our curriculum is really characterized by a differentiated approach to instruction that allows every student, in multiple ways, to grasp the content and develop a firm understanding and skillset needed in college and beyond. An example of this is the annual Senate Simulation.
Opportunities found by CH-CH students relate to the size of the school. As a small school, there are many opportunities to lead and get involved, which would not be possible at a large public school. The opportunities in the classroom, on the field, and on stage at Ch-CH provide students with the key to unlock their passions and a place to find themselves as future leaders.
Relationships are some of the most important values students discover at CH-CH. In particular, our teachers are experts in finding ways to build productive bonds with their students, whether it be in the classroom, on the field, or in the dorm. The impact teachers have on young adults continues beyond graduation, which can be seen in our Inspiration Video Project.
Empathy is one of the words that comes up when speaking with students, faculty, alumni, and parents. All constituency groups note how empathic CH-CH is as an institution and community, which is an aspect we intentionally continue to grow through requirements like community service and experiential learning opportunities, of which create specific experiences that allow students and teachers to get to know each other on a deeper level so they can collectively grow through shared experiences. Not to mention, In the past couple of years, CH-CH has partnered with Harvard University's Making Caring Common project, a national campaign aiming to motivate schools to take action to help mend our country's fractures, strengthen democracy, and build stronger communities.
Learn more about the CORE values of CH-CH.
Q: What does a portrait of a CH-CH graduate look like?
A: Our entire faculty collectively developed areas of focus and skills every student should walk off the graduation stage being passionate about and pursue in the real world. Key domains include: Communication, Academic Habits, Cultural Fluency, Community Engagement, Collaboration, Critical Thinking, and Creativity.
A complete look into CH-CH's portrait of a graduate, as told by Ben Riggs, Director of 111th & 12th Grade Programs, can be viewed here.
Q: What type of student thrives at CH-CH?
A: With our small classes and dynamic, college-like schedule, CH-CH is an engaging learning environment. "Students that are the most successful are the ones that engage with the adults on campus," says Assistant Head of School, Josh Bubar. Click HERE for Josh's complete answer and parent voices.
The CH-CH students also discussed their own experiences:
"CH-CH was a new experience for me… I was a boarder and living away from home for the first time… as soon as I arrived on campus I found it extremely easy to make friends. The way the first two weeks of 9th grade are set up really build the foundation for lifelong connections." - Stephanie E. '21
"I was hesitant to attend CH-CH at first, I didn't want to leave my public school and the friends I had been around for years… but I quickly realized coming here was the best choice for me, especially in regards to the number of academic and co-curricular opportunities available… of which really provided me with a platform for when I graduate and attend college." - Max C. '21
Q: How was distance learning during the spring trimester?
A: When we shifted to our distance learning model, we continued with a consistent schedule where we had daily synchronous class meetings. In a typical week this spring, all classes met twice a week in order to accommodate the many time zones our students reside in. As relationships are very important at CH-CH, we kept all aspects of community time, including weekly advisory check-ins and grade-level meetings, and senior capstone presentations. Before the trimester began, all faculty and staff members took part in a week-long professional development to identify helpful tools and resources, such as Zoom, Flip-Grid, and Padlet. Throughout the spring, our teachers got creative in their virtual classrooms in order to provide every student with the opportunity to engage with the material in a meaningful way- like the Anatomy & Physiology class' dissection.
Watch the Full Replay of A CH-CH Education in the Age of COVID-19
Ready to learn more? Schedule your Zoom Info Session today!
Head over to the CH-CH Virtual Admissions Experience landing page for more information, resources, and to watch more than 10 past webinars that depict why we are known for being a school with empathy at the core of community and teaching philosophy.