Members of the CH-CH community might be surprised to find a familiar face on their TV screens this holiday season. Is that Spanish Teaching Fellow Samantha Cruz sending up a cloud of flour from her stand mixer on Netflix's Nailed It? Why yes, in fact, it is! If you have a Netflix account, you can watch the episode here.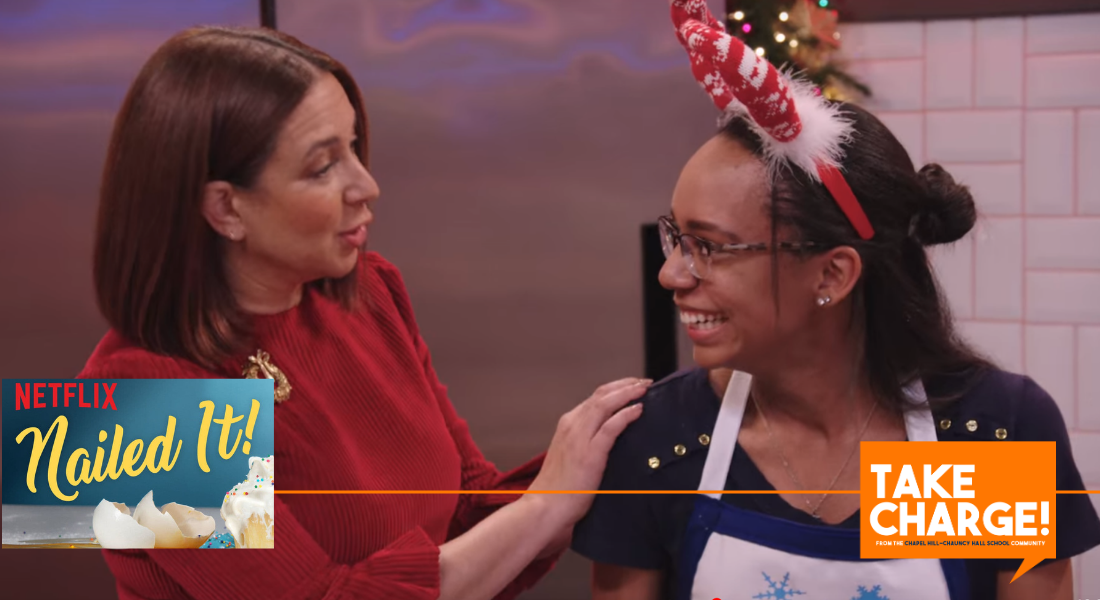 To those unfamiliar with the show, Nailed It pits amateur bakers against one another in an attempt to recreate professional cakes. Cruz was watching an episode with her twin sister - who is a pro baker - and alleged that Sam "would never get on it." Challenge accepted. It took one email to the show's producer for Sam to begin the audition process. "So that's a life lesson," she later tells students. "Sometimes all you have to do is email someone."
The trailer from Nailed It! Holiday! From Netflix
Part of her motivation was to prove to her family that she wasn't "the worst baker out there," wryly noting, "My family won't even let me near an oven." The show was a fascinating chance to meet fellow contestants, as well as guest judge Maya Rudolph, and of course to get festive with loads of buttercream. As a photographer and Communication Arts major, Sam's strategy was to focus on looks versus taste, but she confesses this backfired. So, if not at baking, where does Sam consider herself a pro?
Photography comes to mind. At the time of filming in 2019, she was still a student majoring in Communication Arts and minoring in Spanish. But anyone who sees Sam in action on campus will quickly learn she's a pro at teaching, too. It was a stint at a non-profit that combined teaching with media arts that inspired Sam to apply for the fellowship here at CH-CH, craving an environment where she could really get to know students. She got even more than she bargained for, now residing on campus with the boarders so that life is literally intertwined with those of her students.
What makes Nailed It stand out from the cooking show crowd is the permission to make mistakes, and Sam carries this philosophy over to her classroom. She creates a safe space, "Where [students] can make mistakes and laugh," not even minding when the laughter is aimed her way… because even teachers make mistakes sometimes. "It breaks down the wall," she says of such laughter.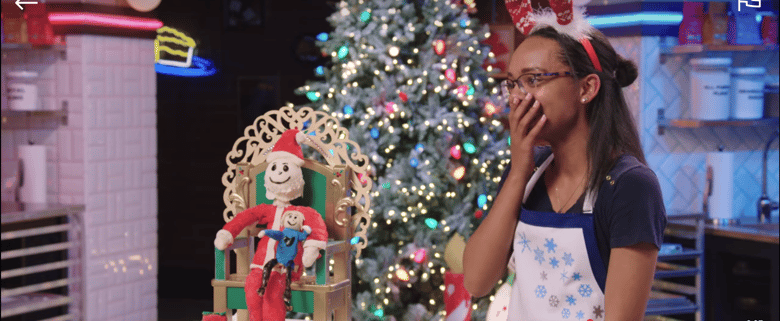 Coincidentally (or perhaps not), Sam's Spanish class is in East Hall baking just before winter break. "The timer was supposed to go off at 11:07," she says checking her watch, "Oh my goodness we almost missed it!" In between chit-chat, she's busy passing on wisdom, whether about baking (don't use the toothpick test to check if a cake is done), assignments, or life. And when the topic turns to Nailed It, the kitchen is suddenly a flurry of excited questions: "You were in it?" "Was it fun or stressful?" She fields the questions easily, in between a little more baking wisdom (don't frost the cake before it has cooled).
Sam also currently teaches college students through her Master's Program in Hispanic Studies at Boston College, and she's quick to spot the differences between the two settings. At CH-CH, the relationship between teacher and student isn't purely academic, nor would she want it to be. As a dorm parent, her enthusiasm bubbles over with the idea that daily life with students extends beyond the classroom. "I can't say no if someone asks for a snack," she confesses, noting she's become an expert at smoothie bowls (one boarder's favorite). Likewise, she'll be leading an upcoming Spring Session to Puerto Rico, and if Cruz is daunted at the prospect of chaperoning twelve students for six days, it certainly doesn't show.
Some of her graduate program colleagues intend to choose a boarding community, while others may not. Sam points out that boarding schools aren't the right fit for someone who wants to clock out when the teaching day is done. As for herself, her passion is clear for teachable moments all day, whether when kids stop by her dorm apartment, while driving a student to an appointment and back, or leading the Media Interns during co-curriculars.
"My nephew really made it click," she says, after she'd explained to him a bit more about her role here. "He said, 'Oh, so you're their parent sometimes.'"
Nailed it.